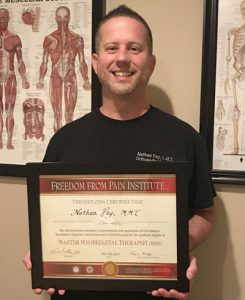 Over the years, Nathan Fay has put in countless hours on the massage table helping everyone from ages 8-85; high school athletes, weekend warriors, pro-wrestlers, Cirque du Soleil artists, touring musicians and anyone in chronic pain that just isn't getting the help they deserve. Nathan began his journey to Myoskeletal Alignment Techniques several years ago, and officially earned his Master Myoskeletal Therapist certification in 2018 in beautiful Costa Rica. 
Today he travels internationally as a teaching assistant for the Freedom from Pain Institute, and at the beginning of this year became a certified instructor for the Institute under the direction of Erik Dalton. Nathan's philosophy to bodywork combines listening, creating team oriented therapy, client education and working with clients to help them live pain-free independent lives. In addition to running a full time practice and teaching, Nathan is currently finishing a 2,000 hour program in Osteopathy. 
To learn more about Nathan's upcoming seminars check out https://erikdalton.com/workshops/bristol-ct-usa-nate-fay-3/  and 'Myoskeletal Alignment of Connecticut' on Facebook.
Nathan Fay
Enfield, Connecticut
860-745-3500