Learn to Treat Low Back, Hip & Leg Pain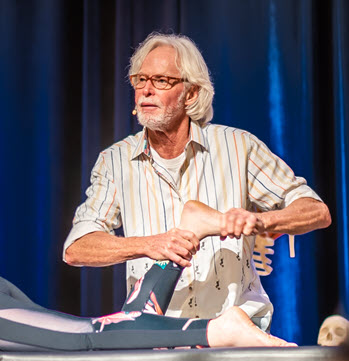 With over thirty years educating massage therapists around the world, Erik Dalton is among the most highly regarded educators in the profession. With a comprehensive understanding of the interplay between mind and body, structure and function, he has developed Myoskeletal Alignment Techniques which is changing the world of pain treatment and management.
DYNAMIC LOWER BODY COURSE (32 CE)
Packed with detailed information on anatomical function and step-by-step technique demonstrations, the Lower Body MAT course addresses a wide spectrum of pain conditions, including sciatica, piriformis syndrome, trochanteric bursitis, runner's knee, SI joint spasm, pelvic floor dysfunction, rib torsion, hamstring tears, shin splints, and plantar fasciitis.
A Foundational Course for MMT Certification: The Lower Body MAT course is part of the Foundational MAT Program and will take you one step closer to Master Myoskeletal Therapist (MMT) certification. It's a perfect addition to your skill set for anyone working in sports medicine, massage therapy, structural integration, physical therapy, or personal training. 
Course Description:
In this course you will learn how to:
Assess and treat pelvic floor and ligament damage 
Realign pelvic bones
Strengthen and release muscles involved in gait efficiency and core stability
Learn assessments and treatments for standing, supine and side-lying positions
Restore firing order, relieve dural drag, and fuel spinal engine efficiency
Facilitate deep tissue, myofascial mobilization and joint stretching routines
Locate compensatory kinks that initiate the pain-spasm-pain cycle
Fix kinetic kinks in the fascia and bones of the kinetic chain
Execute routines to lengthen and tone muscles in the pelvis, feet and legs
Utilize spinal unwinding, articular springing and deep myofascial balancing maneuvers
Upon purchase of the home study course, you'll be sent the 9-piece "Dynamic Body" Low Back, Hips & Legs package. This includes the Dynamic Body textbook and six USBs filled with video techniques. Rich in detail and explanation, these practical resources teach anatomical relationships of muscles, connective tissue, joints, and the central nervous system. The critically acclaimed textbook titled Dynamic Body features contributions from bodywork veterans such as Tom Myers, Til Luchau, Art Riggs, Aaron Mattes, Craig Liebenson, Judith Aston, Robert Schleip, and James Waslaski. These manual and corrective exercise specialists have been developing their skill set for decades and here they offer their experience in one beautifully illustrated 424-page hardcover textbook.
BONUS! Purchase the Home Study and we'll give you access to the eCourse for free! (valued at $359). You receive the entire contents of the program online where you can access through any device: computer, laptop, tablet, or phone. You can enjoy the course wherever you have Internet access.
Earn 32 CE hours! Upon successful completion, you will earn 32 CE hours, for your bodywork licensure, recognized by National Certification Board for Therapeutic Massage & Bodywork (NCBTMB), Federation of State Massage Therapy Boards (FSMTB) and most State Licensing Boards. This MAT course is approved by CE Broker under the "General Category" only. You will have also taken the first step toward Master Myoskeletal Therapist Certification. Upon completion of the requirements of the course, you'll receive your Certificate of Completion and be listed in our highly searched Online Directory of bodyworkers with MAT training.
Become a more effective clinician, develop a more satisfying and successful practice, and gain loyalty from your clients by enrolling today.
I have completed the Lower Body E-course and I am now studying the Upper Body eCourse. Eric Dalton is fantastic in explaining his techniques in great detail. I have learned quite a lot, and would recommend this course to absolutely every body worker.
The best course I have taken. The videos were done so well that you almost felt as if you were taking the class in person. The camera angles along with the 3D views of the musculature you were treating gave me the opportunity to view the material over and over until i felt confident in the procedure. The workbook which accompanied the videos will always be part of my favorite reading material.
As a well-trained and studied therapist, the MAT online trainings reinforced my current skill set while also encouraging me to view the body and my treatment approaches from additional perspectives. The information is current, clearly presented and immediately applicable.
The Myoskeletal Alignment Technique is far and away the most effective form of therapy in my practice. I am known in my community for possessing excellent skills in the treatment of chronic neck and back problems.
Dynamic Lower Body Home Study Course - USB Version
Home Study Course Includes:
6 USBs packed with technique demonstrations and educational graphics 
Beautifully illustrated 424-page hardcover Dynamic Body textbook
Mail-in test and printable certificate of completion
BONUS: Order the home study version and get instant access to the eCourse for free!  
Prefer DVDs?
Click here to order DVD version while supplies last.
Dynamic Lower Body eCourse
eCourse Includes:
Online streaming videos
Detailed instructions for all techniques
A downloadable full color reference eBook 
Online tests and printable certificate of completion
Get access to all course materials online. Lifetime access and no shipping fees!   
PROUD TO BE AN APPROVED PROVIDER FOR CONTINUING EDUCATION:

FREQUENTLY ASKED QUESTIONS