Learn to Treat Low Back, Hip & Leg Pain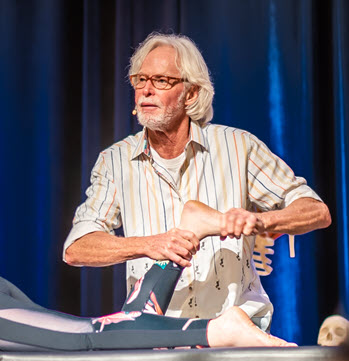 With over thirty years educating massage therapists around the world, Erik Dalton is among the most highly regarded educators in the profession. With a comprehensive understanding of the interplay between mind and body, structure and function, he has developed Myoskeletal Alignment Techniques which is changing the world of pain treatment and management.
This course will teach you how to:
Assess and treat pelvic floor and ligament damage. Realign pelvic bones
Strengthen and release muscles involved in gait efficiency and core stability
Learn assessments and treatments for standing, supine and side-lying positions
Restore firing order, relieve dural drag, and fuel spinal engine efficiency
Earn 32 CE hours for State and National Licensure
Packed with detailed information on anatomical function and step-by-step technique demonstrations, the Lower Body MAT course addresses a wide spectrum of pain conditions including sciatica, piriformis syndrome, trochanteric bursitis, runner's knee, SI joint spasm, pelvic floor dysfunction, rib torsion, hamstring tears, shin splints and plantar fasciitis. You will learn:
Deep tissue, myofascial mobilization and joint stretching routines
Locate compensatory kinks that initiate the pain-spasm-pain cycle
Fix kinetic kinks in the fascia and bones of the kinetic chain
Execute routines to lengthen and tone muscles in the pelvis, feet and legs
Utilize spinal unwinding, articular springing and deep myofascial balancing maneuvers
The critically acclaimed textbook titled Dynamic Body features contributions from bodywork veterans such as Tom Myers, Til Luchau, Art Riggs, Aaron Mattes, Craig Liebenson, Judith Aston, Robert Schleip, and James Waslaski. These manual and corrective exercise specialists have been developing their skill set for decades and here they offer their experience in one beautifully illustrated 424-page hardcover textbook.
This 32-hour CE certification course includes the Dynamic Body textbook and six broadcast quality DVDs. Rich in detail and explanation, these practical resources teach anatomical relationships of muscles, connective tissue, joints, and the central nervous system.
The Lower Body MAT home study course is part of the Foundational MAT Program and will take you one step closer to Master Myoskeletal Therapist (MMT) certification.It's a perfect addition to the library for anyone working in sports medicine, massage therapy, structural integration, physical therapy or personal training. 
Upon purchase, you'll be sent the 9-piece "Dynamic Body" Low Back, Hips & Legs package. As a bonus, when you buy the home study version of this course, we'll give you access to the online eCourse for free. 
Save with eLearning! As an option you can purchase this program as an eCourse. It contains all the great videos and information available in the Home Study version. Because eCourses are delivered online, we don't have the cost of producing and stocking printed books, manuals or DVDs. We can pass those savings onto you. And there's no shipping cost with eLearning, so you save even more! Purchase now and get lifetime access.
32 Continuing education credits! Upon successful completion, you will earn 32 CE hours for your bodywork licensure, recognized by the National Certification Board of Therapeutic Massage and Bodywork and most State Licensing Boards.
You'll receive a Dynamic Lower Body Course Certificate Of Completion and be listed in our highly-searched online directory of bodyworkers with MAT training.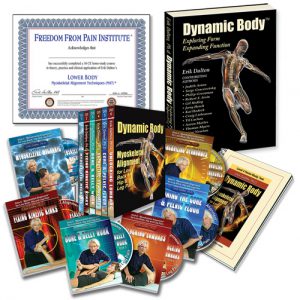 Lower Body 32-Hour Home Study Course with DVDs, Textbook, and Manual + Bonus
BONUS: Order the home study version and get access to the eCourse for free!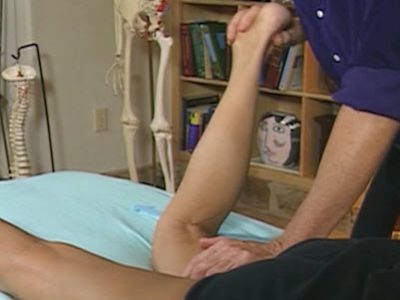 eCourse - Lifetime Access
Get access to all course materials online. Lifetime access and no shipping fees!   
FREQUENTLY ASKED QUESTIONS
SAVE 25% OFF THE ART OF MAT COURSE
Take an inside look at Myoskeletal Alignment Techniques in action. Follow along with Erik Dalton as he uses MAT techniques to treat real people with real problems. Sale Ends February 1st!