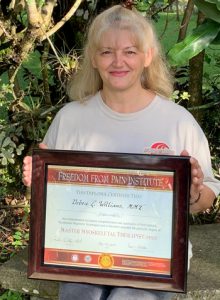 I began my journey with Erik Dalton at his 2009 Costa Rica Retreat based on a recommendation from James Waslaski. I attended Dallas, Texas and Baltimore, Maryland workshops, which encouraged me to "bite-the-bullet" and begin working through Erik's "10 step" Master Myoskeletal Therapist program.
After completing all the home study courses, I attended Erik's annual Oklahoma City workshop and Costa Rica two more times. Upon completion of last year's Costa Rica class, I received my MMT diploma to a room full of cheering.
The MMT program offers high quality, well-organized and practical e-Learning courses that are easily understood and easy to apply in practice. I encourage any serious professional bodyworker to step up to the challenge and take your practice to the next level. One of the things I love about Erik Dalton is his never-ending passion for bringing the body back to homeostasis. He's always researching and tweaking his MAT modality on this unique canvas we call the human body. I can't thank you enough Erik Dalton for sharing your superior knowledge.
Debra Williams
Tyler, Texas
903-571-1225