MYOSKELETAL MOBILIZATION MASSAGE
Learn A FOUNDATIONAL ROUTINE WITH OVER 80 TECHNIQUES!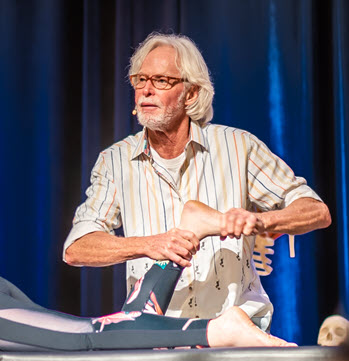 With over thirty years educating massage therapists around the world, Erik Dalton is among the most highly regarded educators in the profession. With a comprehensive understanding of the interplay between mind and body, structure and function, he has developed Myoskeletal Alignment Techniques which is changing the world of pain treatment and management.
MYOSKELETAL MOBILIZATION MASSAGE COURSE (10 CE)
The Myoskeletal Mobilization Massage course can be described as the "greatest hits" version of the Myoskeletal Alignment Techniques  (MAT) Erik Dalton has been developing over the past forty years. Erik has said that if he were starting over again as a therapist this would be the course he'd want to take.
This course came about as the result of requests to expand on the popular Myoskeletal Spa Massage program. In the Myoskeletal Mobilization Massage course Erik has expanded on the relaxation routine by including additional techniques and adding a whole new section on what he refers to as 'bench work', that is, massage done in a seated position. In this program Erik Dalton takes you on a step-by-step journey through a full body routine that he uses almost daily in his practice.
This course is not only designed as a relaxation massage, it also teaches an efficient and effective method for assessing and correcting flexibility and mobility issues we see every day in our practices. As you follow him along in this routine you'll learn lots of tips on proper body mechanics to add power and control to your hands-on work and to protect your body from injuries such as carpal tunnel syndrome and rotator cuff strain.
Course Description:
The Myoskeletal Mobilization Massage course is divided into four sections: Prone, Sidelying, Supine, and Bench Work.  The techniques included in the Bench Work section offer alternate (and sometimes better) approaches for assessing and correcting soft tissue and bony restrictions in clients with neck, rotator cuff, ribcage and low back pain.
Once you complete this course, you may decide to select specific techniques to incorporate into your existing massage practice or you may decide to perform the entire Mobilization Massage as it is taught. Your clients will absolutely love this routine and its incredibly easy on your body too. The 80+ techniques that you'll learn in this course are designed to be performed in a typical relaxation massage setting as well as in practices that focus more on pain management and rehabilitation.
In this course you will learn:
Over 80 techniques for Prone, Sidelying, Supine, and Bench Work
Proper body mechanics that will add power and control to your hands-on work while protecting your body from injuries such as carpal tunnel syndrome and rotator cuff strain
Effective methods for assessing and correcting soft tissue and bony restrictions in clients with neck, rotator cuff, ribcage and low back pain
Stimulate the body's stress-relieving hormones
Relieve pressure on peripheral nerves
Address protective muscle guarding due to injury
Relieve digestive disorders
Enhance breathing
Reduce anxiety
Increase joint range of motion
Enhance exercise performance
Upon purchase of the home study course, you'll be sent a full color detailed treatment manual and 2 instructional DVDs.
BONUS! Purchase the Home Study and we'll give you access to the eCourse for free! (valued at $179). You receive the entire contents of the program online where you can access through any device: computer, laptop, tablet or phone. You're no longer tied to your DVD player and can enjoy the course wherever you have Internet access.
As a requirement for the completion of this course, you will be required to do assessments on 3 individuals and record your findings. See the assessment section in the course for more details.
Earn 10 CE hours! Upon successful completion, you will earn 10 CE hours, for your bodywork licensure, recognized by National Certification Board for Therapeutic Massage & Bodywork (NCBTMB), Federation of State Massage Therapy Boards (FSMTB) and most State Licensing Boards. This MAT course is approved by CE Broker under the "General Category" only.  Upon completion of the requirements of the course you'll receive your Certificate of Completion and be listed in our highly searched Online Directory of bodyworkers with MAT training.
Grab a partner and follow along or simply complete the course, receive your continuing education credits, and take the new routine into your bodywork practice on Monday morning.
It's amazing how you developed these techniques that literally change the quality of peoples lives. My fibro client is raving about how much better she feels and her doctor wants to refer other patients to me. I now have a waiting list and I"m booked solid .
Throughout the years I have taken many CE classes which were a complete waste of time. Many courses out there claim many different things. Dalton's courses actually deliver. As soon as I received the material, I got started right away. I was actually amazed when my clients were getting great results (sad but true, I was skeptical). Thank you, Mr. Dalton for sparking a new, creative and remarkable passion in my practice.
I was able to integrate MAT quickly into my routine and have gotten wonder results.
Great material! Gave me the chance to help my clients even more. Best course I've taken.
Myoskeletal Mobilization Massage Home Study Course
Home Study Course Includes:
2 x DVDs packed with technique demonstrations and educational graphics 
A full-color reference manual for your treatment room
Printed test 
BONUS: Order the home study version and get access to the eCourse for free!  
Myoskeletal Mobilization Massage eCourse
eCourse Includes:
Online streaming videos
Detailed instructions for all techniques
A downloadable full color reference eManual
Online tests and printable certificate of completion
Get access to all course materials online. Lifetime access and no shipping fees!   
PROUD TO BE AN APPROVED PROVIDER FOR CONTINUING EDUCATION:

FREQUENTLY ASKED QUESTIONS