Damon Bolden has been working as a massage therapist in Las Vegas since 2012. In 2018, Damon got their Master Myoskeletal Therapist (MMT) certification. It's a big step up from being a standard licensed massage therapist and requires a great deal of drive to achieve. We're pleased that he made that commitment and impressed with the results he gets with clients. You can find out more about him below. He can help you resolve pain problems that many other allied health professions struggle with, including back pain, injuries, and headaches. If you're looking for massage therapy in Las Vegas, give Damon a call.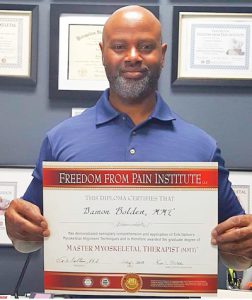 After retiring from a career in Law enforcement, I still wanted to help people and thought that massage would be a nice side hobby. Unfortunately, during massage school, I quickly learned that for me, the field of regular massage may be lack luster. A good friend of mine brought to my attention Erik Dalton and the MAT method of therapy and I knew that this was the direction I wanted to go.
I started my massage career at a franchise massage business in 2012, at the same time, I purchased my first Dalton home study course. Every chance I got to use the MAT techniques during a massage session, I did and my clientele grew. Other massage therapists were amazed that I was always booked and had repeat clients so quickly in my new career. People began to come in for the Myoskeletal Alignment body work and tell their friends. This continued for two years as I continued to practice and study.
I finished all the core MAT courses and completed the internship with Paul Kelly at his facility in Tennessee and decided I was ready to open my own business in 2014. As my business grew I continued to complete home study courses and travel to as many MAT seminars as I could and finally received my MMT certification July 2018. These proven techniques have helped me help countless numbers of clients with posture and pain issues and has allowed me to have a very successful and lucrative business in Las Vegas.
I want to thank Erik for providing the system to help so many people become pain free and so many therapists to financial freedom.
I also want to thank Paul Kelly for his friendship and guidance and all of the staff at the Freedom from Pain Institute!
Damon Bolden Henderson
Las Vegas, Nevada
702-577-6638