Dalton Technique Treasures
Get the best hands-on training for correcting posture, pain, and orthopedic injuries with Erik's favorite "head-to-toe" techniques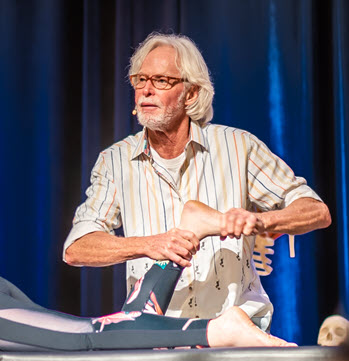 With over thirty years educating massage therapists around the world, Erik Dalton is among the most highly regarded educators in the profession. With a comprehensive understanding of the interplay between mind and body, structure and function, he has developed Myoskeletal Alignment Techniques which is changing the world of pain treatment and management.
DALTON TECHNIQUE TREASURES ECOURSE (8 CE)
The "Dalton Technique Treasures" eLearning course is designed to help you address common musculofascial pain conditions caused by weak posture, sports injuries, structural misalignment, nervous system overload, and overuse conditions. Upon completion, you will be able to assess and correct orthopedic conditions such as tendinopathies, nerve entrapments, breathing disorders and chronic neck/back pain complaints.
Course Description:
In this handsomely illustrated eLearning course, I've selected 44 of my favorite articles and Myoskeletal Technique videos that will massively improve your hands-on skill set and help you become the "go-to" therapist in your community. This program concentrates on hands-on techniques, but has plenty of information and application for movement-based therapists as well. Each technique is clearly explained and demonstrated with variations included for easy application in whatever type of touch therapy work you're currently practicing. 
Come away from this program with renewed confidence and inspiration in dealing with stubborn head, neck, rib, shoulder and low back pain complaints, and with the ability to 'put it all together' in a coherent session for your clients. Our multi-dimensional video format enhances learning via human dissection, computer animation and step-by-step hands on demonstrations. By learning how to quickly identify musculofascial and joint strain patterns, therapists can pinpoint areas of dysfunction and common referral patterns, get your clients out of pain fast, and keep referrals coming your way.  
You will delight in massage continuing education that is convenient, affordable and also rewards you with lifelong skills that are greatly appreciated by your clients. As in all our eLearning courses, you get lifetime access; feel free to access them anytime with absolutely no expiration date. 
In this course you will learn to assess and correct:
Thoracic outlet syndrome

Low back musculofascial strain

Diaphragmatic breathing problems

Occipital neuralgia headaches

Carpal tunnel syndrome

Greater trochanteric bursitis

TMJ muscle imbalances

Rotator cuff tendinopathies

Ligament ankle injuries

Runner's Knee

Pelvic floor spasm

Neck cricks

Tennis and Golfer's Elbow

Sciatic nerve entrapments

…and much more!
Earn 8 CE hours! Upon successful completion, you will earn 8 CE hours, for your bodywork licensure, recognized by the National Certification Board for Therapeutic Massage & Bodywork (NCBTMB), Federation of State Massage Therapy Boards (FSMTB) and most State Licensing Boards. This MAT course is approved by CE Broker under the "General Category" only. Upon completion of the requirements of the course you'll receive your Certificate of Completion and be listed in our highly searched Online Directory of bodyworkers with MAT training.
Become a more effective clinician, develop a more satisfying and successful practice, and gain loyalty from your clients by enrolling today.
Since graduating massage school, I've taken the "Technique Treasures" eCourse. The therapeutic changes that happen to my clients are incredible to witness! There's no better feeling than when a client comes in with pain and leaves feeling better than ever! I highly recommend educating yourself and learn as much MAT as you can and watch your practice grow simply by word of mouth.
"As I began to implement my training, clients were getting better faster, and the referrals and word of mouth increased at an unbelievable rate. Erik's Costa Rica Retreat was an incredible place to be awarded this MMT honor and I consider it the proudest moment in my 13 year career."
"One of the most amazing things to me about MAT theory and practice is it's accessibility to both beginners and seasoned professionals. I've spent time studying many different systems and always refer to MAT as where "the rubber hits the road." It is taught in a way that is immediately applicable."
"For 17 years, I've been using Erik Dalton's Myoskeletal techniques with great success. Nothing makes me happier than a smiling client leaving my massage room saying, "I don't know what you did, but the pain is gone."
Over the last five years here at Indiana State University's Department of Applied Medicine and Rehabilitation I have built our degree minor program in Therapeutic Massage with our main focus modality as Myoskeletal Alignment Techniques. Next year the program will expand with over 80 students! The school will be requiring all of our doctoral degree students in Physical Therapy, Athletic Training, and Occupational Therapy to take our new non-degree certification program!
DALTON TECHNIQUE TREASURES eCOURSE!
eCourse Includes:
Online streaming videos
Detailed instructions for all techniques
A downloadable full color reference eBook 
Online tests and printable certificate of completion
Get access to all course materials online. Lifetime access and no shipping fees! 
PROUD TO BE AN APPROVED PROVIDER FOR CONTINUING EDUCATION:

FREQUENTLY ASKED QUESTIONS