discover how to use MAT Techniques on real people with real problems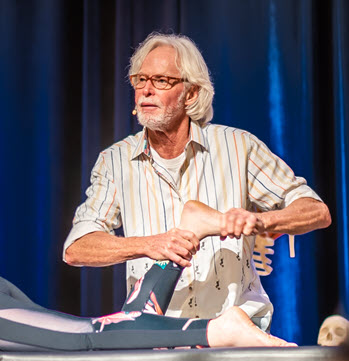 With over thirty years educating massage therapists around the world, Erik Dalton is among the most highly regarded educators in the profession. With a comprehensive understanding of the interplay between mind and body, structure and function, he has developed Myoskeletal Alignment Techniques which is changing the world of pain treatment and management.
Over time, it is common for tension, trauma and poor posture to cause the brain to stiffen the body's musculofascial system resulting in limited mobility, protective muscle guarding, and loss of coordinated movement. In this very popular course, Erik Dalton teams up with senior MAT instructor Paul Kelly to show actual case studies including assessments, treatments, and corrective home retraining exercises.
The content in this self-study program teaches you how to bring lubrication to adhesive tissues, restore motion to adhesive joint capsules, and promote healing in injured ligaments with the ultimate goal of providing fast, effective pain relief and restoring optimal movement. You'll also learn how to elevate the value of your services by teaching clients specific at-home exercises to further enhance the efficacy of each bodywork session.
Develop These Skills for Treating Impairments in the Motion Is Lotion course
Perform accurate assessments of joint positioning and mobility
Encourage joint stretching with maneuvers such as traction and gliding
Combine soft tissue massage with graded exposure stretching and muscle energy techniques
Educate clients on corrective home exercises they can use to assist your work
Utilize over 65 musculofascial mobilization assessments and corrective exercises
If you would like to help clients restore lotion to motion-restricted and protectively guarded joint capsules, nerve entrapments, and injured ligaments… you and your clients will love this work!
Upon purchase, you'll be sent the complete set of Motion Is Lotion DVDs and the full color printed manual by mail. Study and practice at your own pace before taking the test for your certificate of completion. Keep the educational resources in your bodywork library for life.
As a special bonus, when you purchase the Home Study course you will also receive the online version of this course for free. You'll receive the entire contents of the program in an online course area that you can access through any device: computer, laptop, tablet or phone. You're no longer tied to your DVD player and can enjoy the course wherever you have Internet access. We'll give you access to the eCourse at no extra cost as our gift to you (valued at $249).
Save with eLearning!  As an option you can purchase this program as an eCourse. It contains all the great videos and information available in the Home Study version. Because eCourses are delivered online, we don't have the cost of producing and stocking printed books, manuals or DVDs. We can pass those savings onto you. And there's no shipping cost with eLearning! So you save even more! Purchase now and get lifetime access.
Upon successful completion, you will earn 16 CE hours for your bodywork licensure, recognized by the National Certification Board of Therapeutic Massage and Bodywork and most State Licensing Boards.
You receive the Motion Is Lotion Course Certificate Of Completion and be listed in our online directory of bodyworkers with MAT training.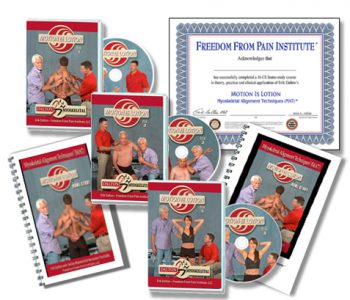 Motion Is Lotion Home Study Course with DVDs and Manual + Bonus
BONUS: Order the home study version and get access to the eCourse for free!  
Get access to all course materials online. Lifetime access and no shipping fees!   
FREQUENTLY ASKED QUESTIONS