Shoulder, Arm & Hand Course
Address Pain in the Upper Extremities with MAT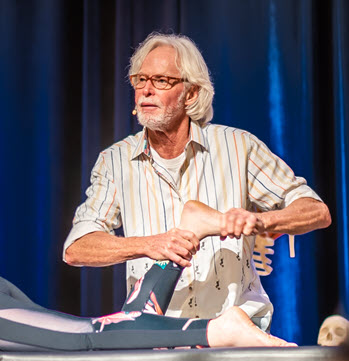 With over thirty years educating massage therapists around the world, Erik Dalton is among the most highly regarded educators in the profession. With a comprehensive understanding of the interplay between mind and body, structure and function, he has developed Myoskeletal Alignment Techniques which is changing the world of pain treatment and management.
Help your clients get relief from shoulder, arm & hand problems
The shoulder girdle is one of the more structurally complicated areas of the body, with several nerves running through the articulation of uniquely-shaped bones. The range of motion the body is capable of accomplishing from the shoulder is impressive. The range of injuries, nerve impingements, and chronic muscle spasms that can arise is daunting.
Using technique demonstrations, full-color illustrations, and academic explanation, the Shoulder, Arm & Hand course covers everything you need to know to begin addressing pain in the shoulder, as well as related issues in the arms and hands. You'll learn to address myoskeletal strain and compensation patterns with an integration of sports therapy, structural integration and pain management techniques.
Immediately incorporate 65 unique techniques into your table treatments, including innovative deep tissue, nerve mobilization, joint stretching and graded exposure techniques
Advance your skills in treating tendinopathies, nerve entrapments, and muscle guarding
Learn to restore motion to painful shoulders, elbows, hands and wrists
Assist healing from Tennis Elbow, Golfer's Elbow and Carpal Tunnel syndromes
Help clients avoid surgery and long-term use of pain medications
Earn 16 CE hours for State and National Licensure
The Shoulder, Arm & Hand Master MAT course is part of the Master Myoskeletal Therapist (MMT) Certification requirements. With the knowledge of this course, you'll help rid your clients of painful conditions that often lead to invasive treatments.
Included in the course are two DVDs packed with technique demonstrations and educational graphics and a full-color reference manual for your treatment room. Rich in detail and explanation, these resources teach how to work with the anatomical structures of muscles, connective tissue and joints. 
Save with eLearning! As an option you can purchase this program as an eCourse. It contains all the great videos and information available in the Home Study version. Because eCourses are delivered online, we don't have the cost of producing and stocking printed books, manuals or DVDs. We can pass those savings onto you. And there's no shipping cost with eLearning, so you save even more! Purchase now and get lifetime access.
Earn 16 Continuing education credits! Upon successful completion, you will earn 16 CE hours for your bodywork licensure, recognized by the National Certification Board of Therapeutic Massage and Bodywork and most State Licensing Boards.
You'll receive the Shoulder, Arm & Hand Course Certificate Of Completion and be listed in our online directory of bodyworkers with MAT training.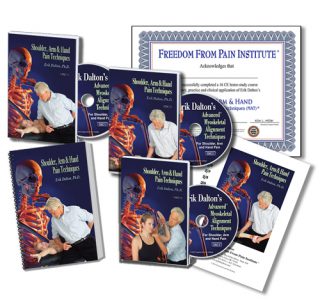 Home Study Course with DVDs, Manual + Bonus

BONUS: Order the home study version and get access to the eCourse for free!  
Get access to all course materials online. Lifetime access and no shipping fees! 
FREQUENTLY ASKED QUESTIONS