A "Techniques Only" Course of Myoskeletal Alignment Techniques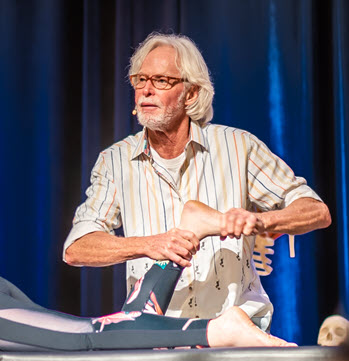 With over thirty years educating massage therapists around the world, Erik Dalton is among the most highly regarded educators in the profession. With a comprehensive understanding of the interplay between mind and body, structure and function, he has developed Myoskeletal Alignment Techniques which is changing the world of pain treatment and management.
Take an inside look at Myoskeletal Alignment Techniques in action as Erik Dalton gives you a tour of some of his favorite and most effective techniques…
Immediately incorporate dozens of new and innovative techniques into your bodywork practice
Learn to assess and correct common head-to-toe pain complaints such as migraines, TMJ, rotator cuff, scoliosis, dowager's hump, sciatica, hip bursitis, runner's knee, and shin splints
Relieve pain and promote synergistic function in the feet, ankles, knees and hamstrings
Establish your reputation as a massage therapist able to help naturally correct many of the most frequent causes of pain
Earn 16 CE hours for State and National Licensure
Technique Tour home study was filmed in response to many requests for a "technique-only" program. These deep tissue, pin and stretch, nerve mobilization and graded exposure stretches help calm central nervous system hyperactivity, relieve protective muscle guarding while addressing the effects of sensory motor amnesia.
Perfect for sports, massage and corrective exercise therapists, this course is designed to elevate your clients to a new level of health, and empower your journey into the lucrative world of pain management.
Erik Dalton's Technique Tour MAT program is not only a comprehensive program for relieving protective muscle guarding and sensory motor amnesia, but a trail guide to help elevate your practice to the next level. Therapists love the fully illustrated spiral-bound manual and often place it on their therapy table to practice techniques while learning to upgrade their touch skill-set. 
With a set of 3 DVDs and a handsome technique manual, you receive easy-to-follow instructions in Dalton's most-used maneuvers. By helping your clients avoid or reduce their use of pain medication or invasive surgery, you'll be a valuable resource for your community. As a bonus, when you buy the home study version of this course, we'll give you access to the online eCourse for free. 
Save with eLearning! As an option you can purchase this program as an eCourse. It contains all the great videos and information available in the Home Study version. Because eCourses are delivered online, we don't have the cost of producing and stocking printed books, manuals or DVDs. We can pass those savings onto you. And there's no shipping cost with eLearning. so you save even more! Purchase now and get lifetime access.
Continuing education credits! Upon successful completion, you will earn 16 CE hours for your bodywork licensure, recognized by the National Certification Board of Therapeutic Massage and Bodywork and most State Licensing Boards.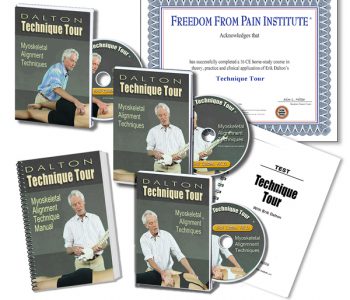 Technique Tour Home Study Course with DVDs and Manual + Bonus
BONUS: Order the home study version and get access to the eCourse for free!
Get access to all course materials online. Lifetime access and no shipping fees!   
FREQUENTLY ASKED QUESTIONS