A "Techniques Only" Course of Myoskeletal Alignment Techniques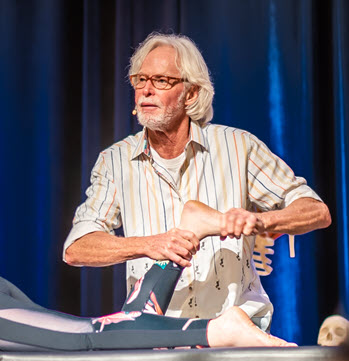 With over thirty years educating massage therapists around the world, Erik Dalton is among the most highly regarded educators in the profession. With a comprehensive understanding of the interplay between mind and body, structure and function, he has developed Myoskeletal Alignment Techniques which is changing the world of pain treatment and management.
THE TECHNIQUE TOUR COURSE (16 CE)
Take an inside look at Myoskeletal Alignment Techniques in action as Erik Dalton gives you a tour of some of his favorite and most effective techniques…
An Advanced Course for MMT Certification: The Technique Tour MAT course is part of the Advanced MAT Program and will take you one step closer to Master Myoskeletal Therapist (MMT) certification. It's a perfect addition to your skill set for anyone working in sports medicine, massage therapy, structural integration, physical therapy or personal training. 
Course Description
The Technique Tour course was created in response to many requests for a "technique-only" program. Learn deep tissue, pin and stretch, nerve mobilization and graded exposure stretches to help calm central nervous system hyperactivity, relieve protective muscle guarding while addressing the effects of sensory motor amnesia. 
Erik Dalton's Technique Tour MAT program is not only a comprehensive program for relieving protective muscle guarding and sensory motor amnesia, but a trail guide to help elevate your practice to the next level. Therapists love the fully illustrated spiral-bound manual and often place it on their therapy table to practice techniques while learning to upgrade their touch skill-set. 
In this course you will learn how to:
Immediately incorporate dozens of new and innovative techniques into your bodywork practice
Learn to assess and correct common head-to-toe pain complaints such as migraines, TMJ, rotator cuff, scoliosis, dowager's hump, sciatica, hip bursitis, runner's knee, and shin splints
Relieve pain and promote synergistic function in the feet, ankles, knees and hamstrings
Establish your reputation as a massage therapist able to help naturally correct many of the most frequent causes of pain
Earn 16 CE hours for State and National Licensure
Included in the home study course are three DVDs packed with technique demonstrations and a handsome technique manual with easy-to-follow instructions in Dalton's most-used maneuvers. By helping your clients avoid or reduce their use of pain medication or invasive surgery, you'll be a valuable resource for your community. 
BONUS! Purchase the Home Study and we'll give you access to the eCourse for free! (valued at $249). You receive the entire contents of the program online where you can access through any device: computer, laptop, tablet or phone. You're no longer tied to your DVD player and can enjoy the course wherever you have Internet access. 
Earn 16 CE hours! Upon successful completion, you will earn 16 CE hours, for your bodywork licensure, recognized by National Certification Board for Therapeutic Massage & Bodywork (NCBTMB), Federation of State Massage Therapy Boards (FSMTB) and most State Licensing Boards. This MAT course is approved by CE Broker under the "General Category" only.  You will have also taken a step toward completing the Master Myoskeletal Therapist (MMT) Certification. Upon completion of the requirements of the course you'll receive your Certificate of Completion and be listed in our highly searched Online Directory of bodyworkers with MAT training.
Perfect for sports, massage and corrective exercise therapists, this course is designed to elevate your clients to a new level of health, and empower your journey into the lucrative world of pain management.
When asked, I always recommend MAT courses as the go to resource. I particularly enjoyed the "Dalton Technique Tour" course. It has some of Eric's best techniques covering the whole body and the manual is great for easy in clinic reference for a busy practice.
It is the one system of bodywork that addresses not just muscle or fascia or bone/skeletal issues etc., it combines techniques that address all areas of the body that need to be in balance in order to be truly healthy. It is the most complete and thorough system of manual therapy I have studied over the 30+ years of my career. I highly recommend it to all manual therapists and bodyworkers.
For 17 years, I've been using Erik Dalton's Myoskeletal techniques with great success. Nothing makes me happier than a smiling client leaving my massage room saying, "I don't know what you did, but the pain is gone."
This is a great opportunity to continue your education and learn assessments and techniques that will help relieve pain and restore function with your clients.
Loving what I do for a living, I continued my personal education through seminars or video instruction. While I do incorporate what I learned fro these, I believe I have found the best method through your MAT courses. I consider myself a medical professional and am lookingforward to making a difference in myclients, rather than "just chasing the pain."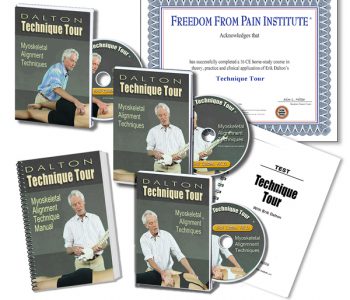 Technique Tour Home Study Course
Home Study Course Includes:
3 x DVDs packed with technique demonstrations and educational graphics 
A full-color reference manual for your treatment room
Printed test 
BONUS: Order the home study version and get access to the eCourse for free!
eCourse Includes:
Online streaming videos
Detailed instructions for all techniques
A downloadable full color reference eBook 
Online tests and printable certificate of completion
Get access to all course materials online. Lifetime access and no shipping fees!   
PROUD TO BE AN APPROVED PROVIDER FOR CONTINUING EDUCATION:

FREQUENTLY ASKED QUESTIONS