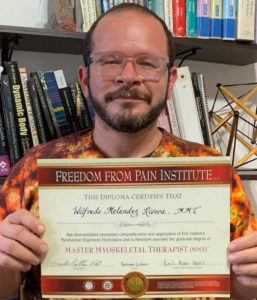 As a martial artist most of my life, I became very interested in human anatomy and corporal movement. During my MMA practice I had many injuries and so did others, which inspired me to specialize in pain management.
I began my massage training here in Puerto Rico 20-plus years ago and in 2003, my eyes were opened to the world of structural bodywork through the teachings of Tom Myers and his Anatomy Trains. Then in 2006, I attended workshops with James Waslaski who taught me how to assess and treat joint capsular restrictions and other orthopedic conditions. In those workshops, he kept mentioning the work of Erik Dalton and his Myoskeletal Alignment Techniques. That got my attention, so soon after I began my journey into Myoskeletal Therapy. After the first course, I found I was able to easily integrate the techniques into my family practice and that triggered me to want to learn more.
The opportunity for my first live workshop came in 2019 at Erik's annual Oklahoma City event where I met Erik and the all the gang. That 3-day workshop was definitely one of the most inspiring and humbling experiences in my professional life. What I love the most about MAT is that it not only focuses on specific techniques; but it's also a holistic approach that takes the whole person into consideration… from musculoskeletal to biopsychosocial. MAT has not only opened my eyes to the art of body reading and how to assess and treat in more practical ways, it's also helped me narrow in on complex pain patterns more accurately. I've really enjoyed the road to Master Myoskeletal Therapist certification and would recommend it to all therapists. Of course, there is still so much to learn, yet I look forward to growing my skillset to better help others in the future. Grateful and honored to be part of Erik's MMT program!
Wilfredo "Freddy" Rivera
Puerto Rico