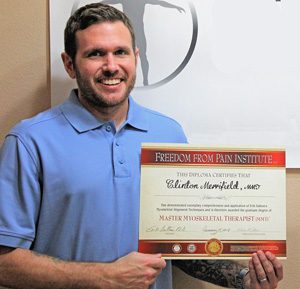 At the onset of my massage therapist career, I realized I had a passion for the craft. Accordingly, I set high goals for enhancing and enriching my therapist credentials. My initial interests focused on muscle energy techniques and stretching, but I wanted to broaden my core knowledge base.
At the suggestion of a colleague, I explored the Erik Dalton "Freedom From Pain Institute" course offerings and was instantly attracted to the Myoskeletal Therapy Training program. The course focused on the human body structure, posture, pain management, and professional ethics. It was exactly what I wanted to pursue as a foundation to my new vocation. From the initial series of lessons and workshops, I was hooked. Achieving Master Myoskeletal Therapist certification turned into a personal top priority. The more I learned from the MMT program, the more confident and capable I became. Every step of working with a client's musculoskeletal system advanced my academic understandings and hands-on application techniques, which benefited my growing clientele.
With many thanks to Erik, I have complete confidence in myself in helping my clients with their physiological and neurological issues that arise from bad posture, gait and movement patterns. Becoming a certified Master Myoskeletal Therapist was the right decision for me. I'm a better qualified massage and bodywork therapist who provides quality service to every client.
For massage therapists who wish to advance their knowledge and application skills and to stand out as confident and professional specialists, I strongly recommend the Erik Dalton Myoskeletal Therapy Training program and the Master Myoskeletal Therapist (MMT) certification
Clinton Merrifield
San Antonio, Texas
210-901-0497