Joanne DiRusso has been working as a massage therapist in Granby since 2008. We're delighted that she decided to pursue certification as a Master Myoskeletal Therapist (MMT). Achieving this certification, one of the highest standards for a massage professional, is not easy. It takes a burning desire to get results for your clients and a great deal of commitment. You can read a little bit about her journey below. We know you'll be in great hands when you book an appointment with Joanne. For massage therapy in Granby, contact Joanne. The links are below.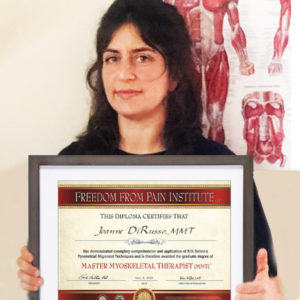 I began my career in 2008 when I realized the profound effect manual therapy could have on pain and dysfunction in the human body.
From the beginning my path focused solely on orthopedic massage therapy where I worked alongside chiropractors and physical therapists. While continuing my education in various other modalities such as myofascial release and kinesio-taping, I earned a sports science certification through the National Academy of Sports Medicine.
During my first year in practice, a couple of colleagues lent me some Myoskeletal Technique DVDs and in 2014 I attended my first 6-day intensive MAT workshop in Costa Rica taught by Erik Dalton. That "Pain Management in Paradise" event inspired me to begin working toward my Master Myoskeletal Therapist certification and this year I'm delighted to have completed my training through the Freedom from Pain Institute.
MAT fell right in line for me. It took my very good, yet partially de-segmented practice and pulled together what it lacked in assessment, neurology, and osteopathic principles. Now I feel I can evaluate where a dysfunctional pattern originates and use clinical reasoning to help make it more functional. MAT has taught me how to work more holistically using current evidence informed theory. My practice has always been comprised of complicated cases such as scoliosis, athletic injuries, postural issues and chronic pain conditions and MAT has been the missing link in helping me evaluate and treat these clients. I understand that science is theory and is ever changing, so I know my educational journey will never stop. I still have a long way to go, and a lot to attempt to master, but thanks to Erik Dalton for creating such a solid program that has really helped me connect some of those dots.
Joanne R. DiRusso
Granby, Connecticut