If you're looking for massage therapy in Winston-Salem, Thomas Michael Joyce is the massage therapist to see. We're delighted that he decided to pursue certification as a Master Myoskeletal Therapist (MMT). Achieving this certification, one of the highest standards for a massage professional, is no small feat. It takes a burning desire to get results for your clients and a great deal of commitment. You can find out more about him below. He can help you resolve pain problems that many other allied health professions struggle with, including back pain, injuries, and headaches. If you're looking for massage therapy in Winston-Salem, give Thomas a call.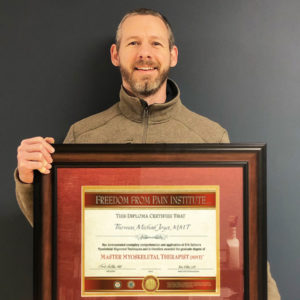 When I graduated from massage school in 2005, I knew exactly what I didn't want to be – the type of therapist whose aim was to merely relax their clients. I didn't want to just help them manage their symptoms; I wanted to lead them out of pain forever (if possible).
As a licensed massage therapist, I was intent on racking up continuing education trainings that would truly make an impact. I really lucked out because my very first professional continuing education experience was with Erik in Atlanta, Georgia. This 3-day workshop really inspired me and, and in 2010 I was able to again join the Dalton gang at the "Pain Management in Paradise" Costa Retreat – which for me, was the most fun and productive learning experience to date!
Prior to massage therapy I graduated from the University of North Carolina with a degree in Exercise and Sport Science. And as a martial artist (teaching tai chi and classical fencing since 2006), the knowledge and ability to diminish the chance of injury greatly needed its counterpart- the ability to aid the body through the healing process. I certainly found that through Myoskeletal Alignment Techniques. I cannot thank Erik Dalton and his group of qualified teachers and staff enough for helping me throughout this 13-year learning endeavor to Master Myoskeletal Therapist certification. It is an achievement that I am monumentally proud of and am excited to implement in my practice on a daily basis.
Thomas Michael Joyce
Winston-Salem, North Carolina