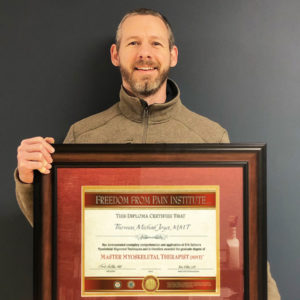 When I graduated from massage school in 2005, I knew exactly what I didn't want to be – the type of therapist whose aim was to merely relax their clients. I didn't want to just help them manage their symptoms; I wanted to lead them out of pain forever (if possible).
As a licensed massage therapist, I was intent on racking up continuing education trainings that would truly make an impact. I really lucked out because my very first professional continuing education experience was with Erik in Atlanta, Georgia. This 3-day workshop really inspired me and, and in 2010 I was able to again join the Dalton gang at the "Pain Management in Paradise" Costa Retreat – which for me, was the most fun and productive learning experience to date!
Prior to massage therapy I graduated from the University of North Carolina with a degree in Exercise and Sport Science. And as a martial artist (teaching tai chi and classical fencing since 2006), the knowledge and ability to diminish the chance of injury greatly needed its counterpart- the ability to aid the body through the healing process. I certainly found that through Myoskeletal Alignment Techniques. I cannot thank Erik Dalton and his group of qualified teachers and staff enough for helping me throughout this 13-year learning endeavor to Master Myoskeletal Therapist certification. It is an achievement that I am monumentally proud of and am excited to implement in my practice on a daily basis.
Thomas Michael Joyce
Winston-Salem, North Carolina