If you're looking for massage therapy in Tulsa, Kennedy Ireland is the massage therapist to see. We're delighted that she decided to pursue certification as a Master Myoskeletal Therapist (MMT). Achieving this certification, one of the highest standards for a massage professional, is not easy. It takes a burning desire to get results for your clients and a great deal of commitment. Below is her story in her own words. This talented therapist can help you with all kinds of musculoskeletal conditions, including headaches, rotator cuff problems, sports injuries, and more. To book an appointment for massage therapy in Tulsa, click the appropriate link at the bottom of this page.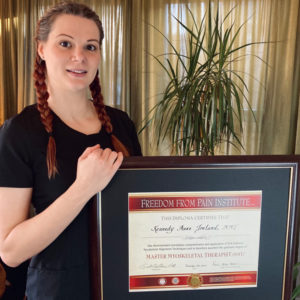 I have always been drawn to anatomy, physiology, and kinesiology… the "why" and "how" behind the human body. After years of traditional study, I achieved a Bachelors in Science. It was after exploring my next options at school, that I realized I was not thrilled with what was available. I wanted to help people right here, right now. I needed a new avenue. That's when I found bodywork.
Early in my massage training, one of my instructors, John Chetta, introduced me to Tom Myers, Erik Dalton, and the world of fascia. His knowledge and support gave me the courage to take an Integrative CEU as a student. That's all it took. I knew I wanted more. Before graduating, I traveled to Oklahoma City for my first Dalton workshop. It stands as the single most pivotal point in my education and career. It was there in OKC that I connected to this incredible community of empirically-minded bodyworkers. Once you really dive into the work, you discover the full depth and breadth of Dalton's techniques. There is so much more to learn – this is what keeps me invigorated and engaged. Within a year, I was in Costa Rica at PuraVida immersed in technique, theory, and new found friends.
This coursework has taught me the techniques and reasoning necessary to unlock my clients' pain patterns and give them back control of their body. I am able to address compressed nerve pathways, rehab sports and repetitive use injury, as well as breakdown complex structural misalignments that are way too often a key factor in my clients' pain. I am able to give them back the choice, the accountability, and the knowledge they need to take charge of their own health and wellness. With this program, we are taught how to take an assessment, apply critical thinking, and problem solving to affect positive change. As a reward for our hard work and achievement, we are connected to a community of brilliant therapists and some of the most compassionate people I've ever met.
Kennedy Ireland
Tulsa, OK.