Scott Oglesbay who has been working as a massage therapist in Atlanta since 2008. We're delighted that he decided to pursue certification as a Master Myoskeletal Therapist (MMT). Achieving this certification, one of the highest standards for a massage professional, is not easy. It takes a burning desire to get results for your clients and a great deal of commitment. You can read a little bit about his journey below. We know you'll be in great hands when you book an appointment with Scott. For massage therapy in Atlanta, contact Scott. The links are below.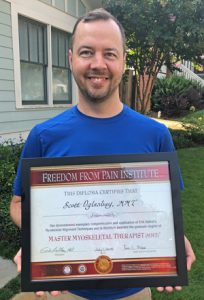 After several years in a corporate job that had run its course, I was discussing my unhappiness with a colleague when he casually looked up and said, "why not massage therapy?" Without looking back, in 2008 I graduated from the Ben Benjamin Massage Therapy Institute and entered the massage world as a part-time therapist at a physical therapy office in Boston.
Massage had always taken a back seat as a part-time job until my move from Boston to Atlanta. I was looking for an injecting of inspiration that would give me the edge and the confidence to make the leap to a full-time practice. One day, a fellow therapist found an Erik Dalton nerve flossing video online and asked if I would try it on her to help with her sciatica. The results were amazing and I began experimenting with other Dalton Myoskeletal techniques.
While scouring Erik's website for more information, I saw that one of Erik's instructors Paul Kelly was teaching MAT in West Palm Beach. I enrolled and was blown away. The information and stimulation from the home-study and live courses made my decision easy…. I had to go all the way and become a Master Myoskeletal Therapist!
Thanks to Erik, Paul, the fantastic TAs and the comprehensive online and home-study courses, the results with my clients have been fantastic and now that the word has spread, I'm in a thriving full-time practice.
As the saying goes, "if you build it, they will come" and the doors have certainly opened for me. More and more clients with varied conditions are seeking my help making my job fun and exciting. I'm so grateful for this path and look forward to deepening my hands-on skills with Erik and Myoskeletal Therapy.
Scott Oglesbay
Atlanta, Georgia
404-937-6234