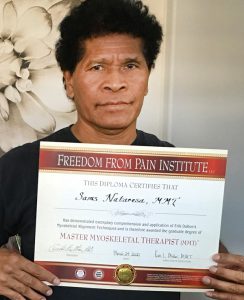 I first heard of Erik Dalton and his Myoskeletal Alignment Techniques at a Santa Rosa, California workshop conducted by one of Erik's dear friends James Waslaski. So, in 2018, I decided to attend his big July 4th seminar in Oklahoma City and I was so impressed with the style, content and applicability of the material, I signed up again in 2019.
Both years were loaded with practical and innovative ways of addressing pain and injury conditions using a brain-based approach. To add to the stimulating 3-Day environment, Erik had invited some of his friends and some of my favorite educators including James Waslaski, Eric Stephenson, Sue Hitzmann, Art Riggs, Drew Freedman, and Til Luchau who worked the tables alongside Erik's very skilled and upbeat teaching assistants. At the end of day two, all the educators broke out into groups in the huge ballroom and the students roamed from educator to educator picking up cool bodywork tips.
During the 2019 workshop, I learned a lot more about Erik's 210-hour MMT diploma program, and instantly made up my mind to go for the gold!
Each of the home-study and eLearning courses seemed to address just the pain and injury conditions clients were brining into my office, which just inspired me to learn more about Myoskeletal Alignment Techniques. I can't say enough about how this program has helped me gain confidence in my hands-on and problem-solving skills, while providing me with better ways to communicate with my clients about their pain.
My thanks to Erik and all the Freedom From Pain Institute staff for all your support through this adventure, and thanks for allowing me to be part of this fun loving, like-minded community of Master Myoskeletal Therapists. Honored to me a MMT.
Sams Nataresa 
Palm Desert, California
+1 760–779–8570