Michelle Coash has been working as a massage therapist in Valley Center since 2013. We're delighted that she decided to pursue certification as a Master Myoskeletal Therapist (MMT). Achieving this certification, one of the highest standards for a massage professional, is not easy. It takes a burning desire to get results for your clients and a great deal of commitment. Below is her story in her own words. This talented therapist can help you with all kinds of musculoskeletal issues, including headaches, rotator cuff problems, sports injuries, and more. To book an appointment for massage therapy in Valley Center, click the appropriate link at the bottom of this page.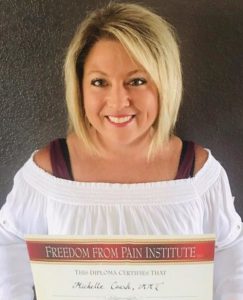 In 1993, I graduated from Kansas State University with a Bachelor's degree in kinesiology and am a licensed Physical Therapy Assistant. I've been practicing manual bodywork and massage therapy for nearly 30 years and have been an ACE Certified Fitness Professional for more than three decades. In 2013, I became owner and operator of MC Massage and Wellness in Valley Center, Kansas.
Practicing Myoskeletal Alignment Techniques has been a big boon to my business and one comment that I hear over and over again is this: "It's one of the only treatments I've found that really helps me understand and manage my pain. " Finishing my MMT certification has afforded legitimacy and credibility that continues to earn my clients trust. There is great satisfaction in being able to manually help people move better so they can compete at high levels and perform better in their daily activities. When the time is right, I plan to apply to Erik's teacher-in-training program and possibly become a nationwide presenter for the Freedom From Pain Institute. Proud to be an MMT!!!
Michelle Coash
Valley Center, Kansas
316-530-2999