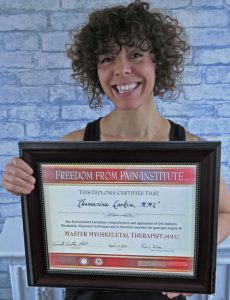 I've been a Registered Massage Therapist in Ontario, Canada since 2011 and a Master Myoskeletal Therapist since 2019. In 2021, I moved to Copenhagen, Denmark, where I work as a massage and Myoskeletal Alignment therapist in a private clinic and with Danish corporations.
My life's passion is to better understand how the body's systems interact to produce mental, emotional, and physical pain. To further that knowledge, in 2022 I earned a Master of Science in the Psychology and Neuroscience of Mental Health from King's College London, and then a Graduate Certificate in Pain Management from the University of Alberta.
Currently, I am completing a Diploma of Osteopathic Manual Practice from the London College of Osteopathy, and then I plan to embark on a Clinical Psychotherapy master's degree from the Gestalt Institute of Scandinavia. In my private practice, I combine my anatomy, physiology, pathology, psychology, and neuroscience knowledge with a biopsychosocial approach to rehabilitation and pain management.
Being a perpetual student has allowed me to study many manual therapy modalities over the years, but myoskeletal techniques are still the foundation of my practice. The MAT training continues to help me discover and treat the root causes of so many common complicated pain and injury conditions. I've also had the pleasure of acting as a teaching assistant for numerous MAT workshops across the USA and Canada and I hope to share this profound bodywork knowledge with all my clients and fellow therapists in Copenhagen. Proud to be a MMT!!!
Thomasina Larkin
Copenhagen, Denmark