Thomasina Larkin has been working as a massage therapist in Ontario since 2011. We're delighted that she decided to pursue certification as a Master Myoskeletal Therapist (MMT). Achieving this certification, one of the highest standards for a massage professional, is not easy. It takes a burning desire to get results for your clients and a great deal of commitment. You can find out more about her below. She can help you resolve pain problems that many other allied health professions struggle with, including back pain, injuries, and headaches. If you're looking for massage therapy in Ontario, give Thomasina a call.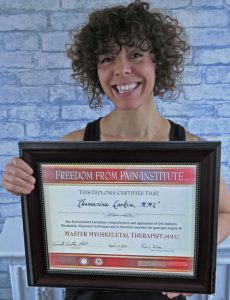 After teaching yoga, fitness classes and personal training for several years, I became a Registered Massage Therapist of Ontario in 2011. I feel like I'm really just at the start of my career and I am so grateful, honored and proud to be part of the MMT team. I heard about the program one year ago and it instantly clicked.
I enjoy upgrading my skills so I've taken a lot of courses, most of which gave me one or two techniques that I continue to use. The MMT program didn't just add tools to my toolbox; it totally became my practice! It is so comprehensive; I feel comfortable approaching any complicated pain condition with MAT techniques to get the most effective and efficient results I've ever seen.
I can honestly say that I didn't know how much I didn't know until I took this program. What an infusion of inspiration it has been! My MAT journey began at Erik's workshop at the Canadian Massage Convention in October 2018 and then I attended his "Pain Management in Paradise Costa Rica Retreat" the following month. In January I did a mentorship program with Paul Kelly and then finished off my live hour requirements at the Houston seminar in March, where I received my MMT diploma!
Between October and March, I studied for my MMT at least 20 hours a week. I would get up extra early to watch 45 minutes of videos, then each night I read Erik's textbooks for a couple of hours. On the weekends I had friends over to practice new techniques and I immediately started performing them on clients. It was quickly evident that I was on a bright new path. I continue to study every day to keep picking up little nuances or recalling techniques from Erik's extensive library. I'm so happy to be able to help more people get out of pain more quickly. Proud to be an MMT…!!!
Thomasina Larkin
Enterprise, Ontario Canada
613-483-7102