Mark Senzig is considered by many to be the top massage therapist in Santa Rosa. In 2018, Mark got their Master Myoskeletal Therapist (MMT) certification. It's a big step up from being a standard licensed massage therapist and requires a great deal of drive to achieve. We're pleased that he made that commitment and impressed with the results he gets with clients. You can find out more about him below. He can help you resolve pain problems that many other allied health professions struggle with, including back pain, injuries, and headaches. If you're looking for massage therapy in Santa Rosa, give Mark a call.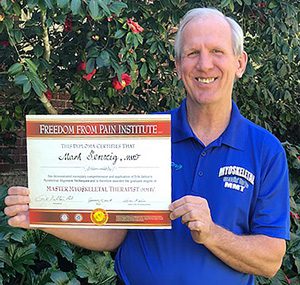 I sought out alternative medicine after being severely injured as a landscape laborer in 1979. After several years of relying on pain medication, my primary doctor referred me to a doctor specializing in alternative modality referrals instead of pills. Within two weeks of treatment in Cathy Amber's physical therapy program, I walked away without pain. This treatment planted the seeds within me that there is hope for a person that suffers with pain.
Those seeds germinated in 1985 when I was asked to be an on-going patient model for Rolfing classes at Meadowood Resort Hotel and Conference Center, St. Helena, CA. I experienced firsthand the powerful healing relationship between emotional release and physical bodywork, inspiring me to take a Deep Tissue class. My next formal venture into the healing arts was 2003 to 2005, when I attended the Acupressure Institute's program in Berkeley, CA. Opening my eyes to other possibilities, I did volunteer acupressure sessions for pain management clients, through Santa Rosa Memorial Hospital. Next stop on my quest to unravel the mysteries of pain, I pursued certification at the National Holistic Institute's Professional Massage and Health Education Program, finishing up in 2007.
I worked at Massage Envy for almost three years, winning a regional Northern California Massage Award of the Year. I honed my skills through continued study: Deep Tissue videos by Art Riggs, Certified Rolfer, and classes taught by James Waslaski, Orthopedic Massage Therapist specializing in chronic pain. I soon found Erik Dalton through James and we became fast friends. I started to take MAT online courses in 2011 and went to my first MAT workshop in April 2012 San Diego CA. My second and third hands on workshop were in 2012 and 2014 Costa Rica and fourth workshop was in 2016 Oklahoma. I finished the 210 hour program on Myoskeletal Alignment Techniques (a form of massage derived from Rolfing and Osteopathy) in 2018. These have all been invaluable in assessment of chronic pain patterns.
I now have more than 1500 hours of educational training, and in the past year earned board certification from the National Certification Board for Therapeutic Massage and Bodywork. Seeing my clients' improvements continues to be my inspiration.
Mark Senzig
Santa Rosa, California
707-480-1226