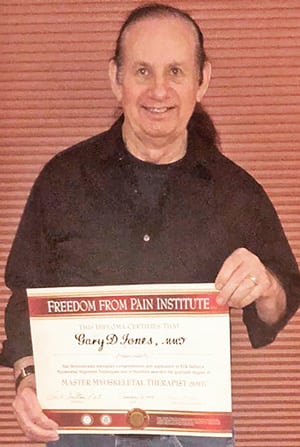 In 1997 I graduated from massage school in Houston, TX. Currently, I hold a license in Texas with Instructor level ranking. I moved to Arkansas in 2000 and attained a therapist license and eventually achieved Master Level rating. I am self-employed and owner of Arkansas Medial clinic in Little Rock. The focus of the clinic is on alleviating pain and treating injuries. The clinic does not offer spa-type, relaxation massage.
I thought I knew about bodywork therapy until I walked into Erik Dalton's classroom. That event caused me to reexamine everything I thought I knew. To learn from Erik (or Paul Kelly) is such an honor. Everything they teach is pure gold. No one is even remotely close to them.
Things I learned from the Myoskeletal Alignment system have allowed me to bring people out of pain who had previously given up because nothing else was working. I am honored to receive this Master Myoskeletal Therapist graduation certificate.
Gary Jones
Little Rock, Arkansas
501-952-5267