Lily Louviere is considered by many to be the top massage therapist in Irving. Lily completed her Master Myoskeletal Therapist (MMT) certification in 2016. For massage therapy professionals, it's one of the most highly regarded certifications that a massage therapist can receive. It's a rigorous process, and few therapists get to use the designation. You can find out more about her below. She is highly skilled at treating a range of myoskeletal conditions, from back to carpal tunnel syndrome. To book an appointment for massage therapy in Irving, click the appropriate link at the bottom of this page.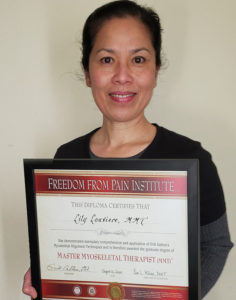 I was born and raised on a farm in China and now live in Irving, Texas.
After graduating from Parker University School of Massage in 2016, I became a licensed massage therapist and soon became interested in Erik Dalton's "Master Myoskeletal Therapist" training program. It has been such a fascinating and amazing journey. These courses have allowed me to learn not only from Erik, but also from scientists, researchers, and educators that he's studied with. I now feel more confident in assessing and treating clients suffering from anxiety, pain, and sports injuries, and am fascinated with the brain-body connection that Erik teaches.
Indeed, the Myoskeletal method has armed me with a strong, systematic method for safely and effectively correcting movement disorders and avoid "chasing the pain" so clients can get back to their joyful life. This program is a shining light in the pain management field and has helped educate people on a deeper, richer, more objective, more scientific, and more meaningful level.
Being a Master Myoskeletal Therapist is the greatest accomplishment in my bodywork career and I'm proud to be a MMT. I feel I'm better able to correct many of the most frequent causes of pain whether they are professional athletes or the general population. I wish to send a deep-hearted thank you to Erik and his team for all the knowledge, support, and encouragement over the past five years.
Lily Louviere
Irving, Texas
214-930-2228