If you're looking for massage therapy in San Antonio, Ben Crabtree is the massage therapist to see. In 2007, Ben got their Master Myoskeletal Therapist (MMT) certification. It's a big step up from being a standard licensed massage therapist and requires a great deal of drive to achieve. We're pleased that he made that commitment and impressed with the results he gets with clients. Below is his story in his own words. We're confident that you'll see great results with Ben whatever pain problem you may have. To contact Ben to make an appointment for massage therapy in San Antonio, check the links at the bottom of this page.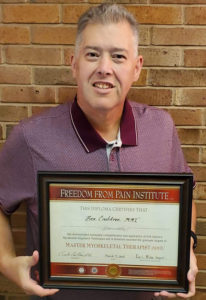 In 1999, I enrolled in massage school and studied multiple modalities right from the beginning. Any technique I could learn that would help improve function and relieve pain got my attention.
While my education helped me build a thriving private practice, I had the feeling there was more to learn if I wanted to really make an impact for my clients. That something more to learn turned out to be Myoskeletal Alignment Therapy (MAT). My first exposure to Erik Dalton and Myoskeletal Alignment Therapy came several years into my practice in 2007. That first workshop really impacted me. I was hooked! I immediately incorporated MAT into my practice and never looked back. Today, I'm proud and excited to have earned certification as a Master Myoskeletal Therapist!
Ben Crabtree
San Antonio, Texas