Kimberly Lewis is considered by many to be the top massage therapist in East Helena. We're delighted that she decided to pursue certification as a Master Myoskeletal Therapist (MMT). Achieving this certification, one of the highest standards for a massage professional, is no small feat. It takes a burning desire to get results for your clients and a great deal of commitment. You can find out more about her below. She can help you resolve pain problems that many other allied health professions struggle with, including back pain, injuries, and headaches. If you're looking for massage therapy in East Helena, give Kimberly a call.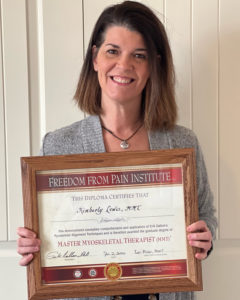 My fascination with the human body laid the path for a career in massage therapy. I began my professional life as a massage therapist in 1999 in my small Montana community. A couple of years later, I was looking at some continuing education classes in a pamphlet I received in the mail, and I saw Erik Dalton's Pain Relief in Paradise Retreat advertised. After spending some time researching him and his techniques, I knew this was the missing link I was looking for to help my clients with their chronic pain. I told myself that, one day, I was going to go to travel to Costa Rica for this workshop.
I knew that Erik offered workshops throughout the United States, but my love of travel kept this workshop on my bucket list. It took me 20 years, but I finally made it to Costa Rica in 2019. To say it was life changing event would be an understatement. My only regret was that I waited 20 years!
At this workshop, I learned many new assessments and techniques to better serve my clients, and I committed to completing the Master Myoskeletal Therapist (MMT) certification program right there. When I returned home, I immediately began using Erik's Myoskeletal Techniques with my clients and they were thrilled with the pain relief I was offering. Over the next three years, I completed the coursework and returned to Costa Rica to complete my MMT certification in December 2022. I am confident that MAT will continue to benefit my clients and help them live pain free.
Thank you, Erik and the Dalton Gang, for sharing your wisdom and commitment to helping others! If you are considering getting your MMT certification, just do it! I know it will change your life, too!
Kimberly Lewis
East Helena, MT