If you're looking for massage therapy in San Francisco, Jean Brown is the massage therapist to see. We're delighted that she decided to pursue certification as a Master Myoskeletal Therapist (MMT). Achieving this certification, one of the highest standards for a massage professional, is not easy. It takes a burning desire to get results for your clients and a great deal of commitment. Below is her story in her own words. This talented therapist can help you with all kinds of musculoskeletal conditions, including headaches, rotator cuff problems, sports injuries, and more. To book an appointment for massage therapy in San Francisco, click the appropriate link at the bottom of this page.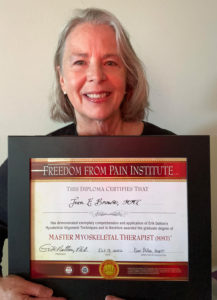 Best time ever! Best information ever! Best client results ever!
Discovering Erik Dalton's online courses and attending the in-person, hands-on events has proven to be one of the best decisions of my life, for myself, my career, and especially for my clients. Erik's work has completely changed the outcomes of my clients' well-being and comfort. With real and repeatable results I have been able to feel confident in addressing some of the most challenging issues. Erik Dalton's instructions are understandable and easily utilized for the client's benefit and ease of movement. This is what I want for my clients…comfort. My goal as a manual therapist is to give each of my clients an opportunity to regain the ability to continue with their life to the highest energetic level possible.
I'm delighted and proud to be a part of the brilliant and heart-centered Dalton Gang.
Jean E. Brown
Ventura, California