Kim Miller has been working as a massage therapist in Oklahoma City since 1994. We're delighted that she decided to pursue certification as a Master Myoskeletal Therapist (MMT). Achieving this certification, one of the highest standards for a massage professional, is no small feat. It takes a burning desire to get results for your clients and a great deal of commitment. You can read a little bit about her journey below. She is highly skilled at treating a range of myoskeletal disorders, from back to carpal tunnel syndrome. To contact Kim to make an appointment for massage therapy in Oklahoma City, check the links at the bottom of this page.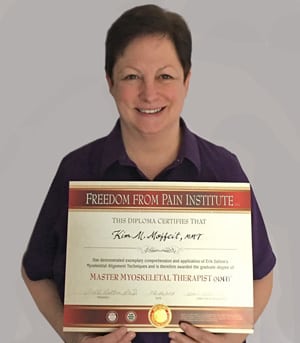 I am a 1982 graduate of Boulder College of Massage Therapy. In 1985 I moved to Oklahoma City to be close to family. I was hired as the lead therapist for a 6-month-old massage therapy program in a fitness center in a new hotel, the first of it's kind for Oklahoma City. Being the new "in" place to stay I got to work on a lot of celebrities, professional athletes and club members. I was also responsible for hiring other therapists, developing advertising and overseeing the program. That was the beginning of my involvement in the administrative side of the business.
Two years later I was asked to develop curriculum and teach for a massage school opening in Oklahoma City. I developed the course for Swedish, Deep Tissue and Sports Massage. I also worked with the owners in developing guidelines for a student clinic. Around that same time, I was asked to develop massage therapy programs for a wellness center at one of the state parks and for Presbyterian Center for Healthy Living.
As well as developing programs I was also seeing clients at these facilities. Traveling was time consuming and in 1994 an esthetician who had trained extensively in London and I decided to open a clinic. I focused on that practice and was there until 2011 when I moved my treatment room to my home.
My association with Erik Dalton began in 1992 when I met him at a workshop. I had been looking for a Rolfer and been given his name by the Rolf Institute, but had been unable to connect with him because he was living in California and his number in Oklahoma had been disconnected. I heard about him throughout the years and began to think he was a phantom and then, there he was! Fortunately, he was taking new clients.
It was also fortunate that Erik had studied with the legendary Ida Rolf and taken extensive post graduate courses with Philip Greenman, Professor and Associate Dean of the College of Osteopathic Medicine at Michigan State University. Erik was looking for a way to marry this information with additional concepts he had researched into a body of knowledge and techniques appropriate for massage therapists. Since I had some experience teaching and developing course curriculum we often spoke about his ideas. In 1994, he decided to start conducting small workshops in his garage, while writing his first book and producing a DVD set to accompany it, which he presented at a conference in Oklahoma City in 1998. I had the honor of assisting him. I assisted him over the next 12 years presenting an average of 10 workshops a year and in 2016 became the Director of Education.
Prior to meeting Erik, I had taken many continuing education courses and became nationally certified in a couple modalities. As Erik developed Myoskeletal Alignment Techniques I began using them on my clients. I had noticed patterns of pain with my clients and the techniques were exactly what I needed to develop a skill set that addressed those issues. As Erik continued to tweak the Myoskeletal Alignment Techniques and grow so did I.
I have now had a full-time practice in Oklahoma City for 33 years. I feel I have helped countless people feel comfortable in their bodies and move with greater ease because of Myoskeletal Alignment Techniques.
Kim Miller
Oklahoma City, Oklahoma
405-919-3685