Kathryn Kemp is considered by many to be the top massage therapist in Norfolk. We're delighted that she decided to pursue certification as a Master Myoskeletal Therapist (MMT). Achieving this certification, one of the highest standards for a massage professional, is no small feat. It takes a burning desire to get results for your clients and a great deal of commitment. You can read a little bit about her journey below. She is highly skilled at treating a range of myoskeletal conditions, from back to carpal tunnel syndrome. To contact Kathryn to make an appointment for massage therapy in Norfolk, check the links at the bottom of this page.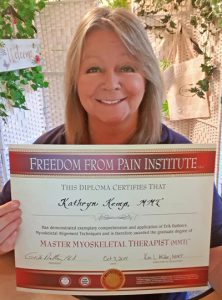 My physical therapy journey started, in Norwich, England, after experiencing a relatively minor soft tissue injury which, over time, led to dysfunction and pain. I trained as a massage therapist and quickly realised the problems people were coming to me with could not be helped by basic massage. I started researching to find a solution to not only my own problem, but also those of my clients.
I ultimately came across Erik's website and YouTube clips which confirmed for me that the conventional training and treatment available in the UK definitely wasn't enough. I began the online home study courses during the evenings and weekends and soon realised that this is what I had been looking for. The ethos of the Freedom from Pain Institute fitted nicely with where I wanted to be. My passion for helping people in pain grew from there. When MAT instructor Aubrey Gowing began offering training at the London School of Osteopathy, I was determined to attend. His passion, skills and experience inspired me to study for the MMT Certification.
I am so proud to have achieved my Master Myoskeletal Therapist certification. Thank you, Erik and Aubrey, for sharing your knowledge and passion – plus everyone else who has helped and inspired me along the way. I am very honoured to be a member of the Dalton Gang.
Kathryn Kemp
Norfolk, England, UK
44 7769 668869