Aiza Ismaila is considered by many to be the top massage therapist in Belfast. We're delighted that she decided to pursue certification as a Master Myoskeletal Therapist (MMT). Achieving this certification, one of the highest standards for a massage professional, is not easy. It takes a burning desire to get results for your clients and a great deal of commitment. You can read a little bit about her journey below. We know you'll be in great hands when you book an appointment with Aiza. For massage therapy in Belfast, contact Aiza. The links are below.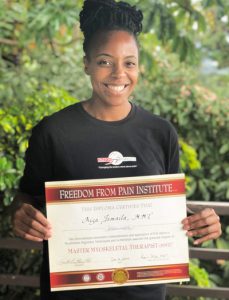 I came across Myoskeletal Alignment Techniques at a early stage of my training thanks to a workshop here in Belfast, Ireland conducted by Senior Myoskeletal Instructor Aubrey Gowing. He demonstrated some of Erik's work on one of my classmates and from there I knew I wanted to learn this bodywork method. Yet, the inspiring incident that really persuaded me to take this MAT journey came at the close of a nearly 2-hour session with a client I'd seen several times for a scoliosis condition. When I reevaluated her using the Adam's Test, she not only showed remarkable improvement in her spinal curvature, but also in her overall freedom of movement. She looked better, moved better and felt great. It was an AhhhHaa moment for her and me.
In 2018, after completing a bunch of Erik's courses, it finally hit me that I needed to start working toward my Master Myoskeletal Therapist certification. And now that I have completed more hours than required; including the fabulous Costa Rica Retreat last November, I'm ready to put my skills to work.
Myoskeletal Alignment Techniques have made a tremendous difference in the way I view the body and its intimate relationship with the nervous system. I know my hands-on skills have dramatically improved…I see and hear it from my clients every day.
I'm proud to be a MMT and a member of this amazingly skilled group of therapists. I hope one day to join the Dalton Gang as a teaching assistant.
Aiza Ismaila
Belfast, Northern Ireland, UK
07775511781