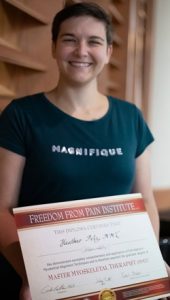 In 2005, I graduated from the University of Louisiana with a bachelor's degree in biology and my passion for massage therapy eventually led me to the Blue Heron Academy of Healing Arts and Sciences. In 2014 at a Medical Massage seminar, I met and started working with a Myoskeletal Therapist whose practice was booming. He introduced me to the MAT technique and spoke highly of Erik Dalton and his yearly Costa Rica "Pain Relief in Paradise" retreat. In 2017, I was finally able to attend the Costa Rica workshop where I purchased the Complete Dalton Library. Within 6 months of putting the MAT techniques into practice, my business was full to the max…and still is!!
By combining what I'd learned in Medical Massage, Spontaneous Muscle Release Technique and Myoskeletal Therapy, it has provided me a wealth of practical information for assessing and treating common and complex pain and injury conditions.
Thanks to Erik Dalton and his "Dalton Gang" for helping me zoom in on my patients' problems and aid them in resolving their issues with much greater efficiency.
As the owner of Regional Medical Rehab Therapy Clinic in Hot Springs, Arkansas, I'm honored to have completed my Master Myoskeletal Therapist program. In 2020, I begin my journey as a massage therapy instructor to help share the wealth of knowledge I've acquired over the years.
Heather Pelz
Hot Springs, Arkansas
337-519-2172