Kanoa General is considered by many to be the top massage therapist in Pittsford. We're delighted that he decided to pursue certification as a Master Myoskeletal Therapist (MMT). Achieving this certification, one of the highest standards for a massage professional, is no small feat. It takes a burning desire to get results for your clients and a great deal of commitment. You can find out more about him below. He can help you resolve pain problems that many other allied health professions struggle with, including back pain, injuries, and headaches. If you're looking for massage therapy in Pittsford, give Kanoa a call.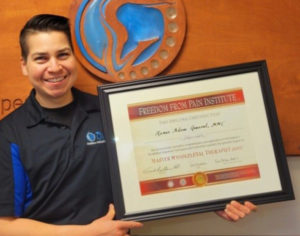 While studying for my Bachelor of Science in Biology and Pre-med, I was shadowing a physician one day when I received a strange intuitive call to put my studies on hold and enroll in massage school. I didn't know such a school existed, but I followed that message, and am glad I did.
Once I graduated with my massage diploma, I returned to complete my bachelor's degree.
I fell in love with both the art and science of bodywork, and particularly how the biopsychosocial model affects a person's outcome on and off the treatment table. Although I had graduated from a 1,000-hour program, I felt like I needed more education and a refinement of the skills I had learned. In 2015, I completed an orthopedic massage certification with James Waslaski and during a conversation he mentioned this fella named Erik Dalton. I researched his work, enrolled in his Costa Rica workshop and immediately decided to pursue my Master Myoskeletal Therapist certification.

My first introduction to Erik, Kim, Rudy, Michelle, and the rest of the Dalton gang was at his Oklahoma City workshop and I loved everyone's vibe, the camaraderie of his students, and how quickly we achieved results. Over the years, I've continued to study Erik's online eLearning courses. I first practiced the new techniques on friends and family and then applied this knowledge to my clients at my holistic clinic. In 2022, I finished my final 2 live workshops with Nate Fay in Connecticut, and Tammy McCue in Florida.
I've been a licensed massage therapist for over 17 years, yet earning my MMT diploma has been one of my most rewarding career accomplishments to date. Erik's courses have been integral to my development as a therapist and have deepened my understanding of effective bodywork. I appreciate his attention to research and how he constantly updates his techniques based on current clinical findings. I feel honored to have studied with one of the greats and Costa Rica has been etched forever in my memory.
Kanoa General
Pittsford, New York