If you're looking for massage therapy in Chester County, Eugenia is the massage therapist to see. We're delighted that she decided to pursue certification as a Master Myoskeletal Therapist (MMT). Achieving this certification, one of the highest standards for a massage professional, is not easy. It takes a burning desire to get results for your clients and a great deal of commitment. You can read a little bit about her journey below. We know you'll be in great hands when you book an appointment with Eugenia. For massage therapy in Chester County, contact Eugenia. The links are below.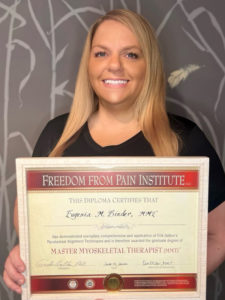 Throughout my life, my passion has always been taking care of others. For 17 years in the restaurant industry, that meant customer service, running a kitchen and cooking for many happy customers. When it was time for a change, I knew it had to be massage. Having experienced the benefits first hand, I had always relied on massage to help keep me going after working long hours. I wanted to be able to bring that relief to others.
In school I felt the most connected to postural assessments and structural integration. My idol and inspiration being Ida Rolf.
I had first heard of Erik Dalton through his interviews with The Massage Mentor. I was hooked when I heard Erik speak. Educated, hilarious and a Rolfer? To say I was intrigued was an understatement.
Over the next year I attended many seminars from James Waslaski, who referenced Erik's work at every workshop. I knew this had to be the next step in my education. I purchased the complete library and dove straight in. Having the online courses to refer back to is invaluable. The material is so in depth, yet Erik's way of teaching keeps it simple to understand. Having the techniques on video, written out, with the cadaver slides for reference really helps the information sink it.
Freedom from Pain Institute could not be a more perfect name. We have all experienced the same issues, week after week, with no changes. Myoskeltal Alignment Techniques finally broke that cycle and provided real relief, no longer chasing the pain and giving us the ability to educate our clients and keep lasting results.
Having learned live from Nate, Tammy & Erik, MAT Workshops are a breath of fresh air. They create a stress-free environment, the teaching assistants are always on hand to help and you are guaranteed to laugh and have a great time. So thankful for the Dalton Gang!
Eugenia Binder
Chester County, Pennsylvania