Joan Moore is considered by many to be the top massage therapist in Dublin. We're delighted that she decided to pursue certification as a Master Myoskeletal Therapist (MMT). Achieving this certification, one of the highest standards for a massage professional, is not easy. It takes a burning desire to get results for your clients and a great deal of commitment. You can read a little bit about her journey below. She is highly skilled at treating a range of myoskeletal problems, from back to carpal tunnel syndrome. To contact Joan to make an appointment for massage therapy in Dublin, check the links at the bottom of this page.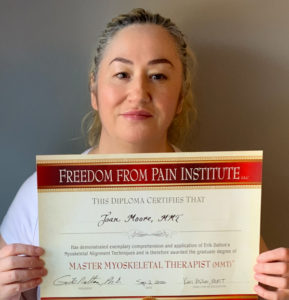 My journey in body work began many years ago with so many different styles of massage and Holistic therapies; Swedish, Hawaiian Lomi Lomi, Bamboo, bone massage, Orthopedic and medical massage, sports and remedial Massage and acupuncture. I found it all fascinating especially the mind body connection.
I was on a 5 day intensive orthopedic workshop about ten years ago when I discovered Erik's work in Myoskeletal Alignment techniques. I found his approach to body work fascinating, and the results for clients was mind blowing. I was hooked straight away and began my journey with his MAT home study courses. Then his training went online which was great! I spent the following years studying at my own pace because I was working full time. My goal was to get to Costa Rica for a workshop with Erik Dalton himself. To my astonishment this year I discovered Erik was coming to Ireland so I instantly booked my place. I was in hospital at the time where I spent many months this year, so I didn't think it was going to be possible. I got stuck in and finished all my required learning and qualifications. I am so honored to finally receive my Master Myoskeletal Therapist qualification and to be part of this community of amazing therapists. Thank you Erik and all the Dalton gang for your support and encouragement over the years and also a big thanks to Kim at Freedom From Pain institute for putting up with me.
This is just the beginning of my Journey as a MMT.
Joan Moore
Dublin, Ireland
joansbeauty@live.ie