Audrey Arbuckle is considered by many to be the top massage therapist in Fishers. We're delighted that she decided to pursue certification as a Master Myoskeletal Therapist (MMT). Achieving this certification, one of the highest standards for a massage professional, is no small feat. It takes a burning desire to get results for your clients and a great deal of commitment. You can read a little bit about her journey below. She is highly skilled at treating a range of myoskeletal disorders, from back to carpal tunnel syndrome. To contact Audrey to make an appointment for massage therapy in Fishers, check the links at the bottom of this page.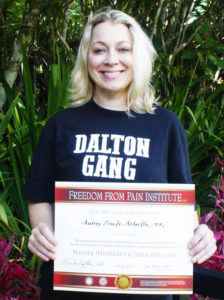 In 2007 I graduated the Cortiva Institute Chicago School of Massage Therapy and the next year opened Integrative Massage Therapy at Fall Creek Chiropractic in Fishers, Indiana. In late 2010, I discovered Erik's Myoskeletal Alignment Therapy, but was unable to implement the modality into my practice until 2021. Seeing firsthand the benefits to my clients, I fell in love with it! Erik's work has been everything that I'd been searching for all these years.
In early 2022, I decided to make the commitment and complete my Master Myoskeletal Therapist training. Later that year, I received my MMT diploma at Erik's "Pain Relief In Paradise Retreat" in Costa Rica. Because of Erik's work, I have been inspired to grow even further as a therapist. He has sparked a fire in me to never stop learning and never stop growing, and I feel I owe it to my clients and to the industry to do just that.
I have been blessed with a busy practice that has afforded me the opportunity to mentor in Dalton Myoskeletal. Pain prevention and early recognition of common strain patterns before they become pain patterns has been my goal. Through structural assessment, customized therapy sessions, and active participation from the client, I have mastered the ability to fuse these elements into my massage therapy sessions.
My heart for people is what keeps me going. When I'm not busy making people feel better, I enjoy spending free time at the gym, studying, or playing in nature with my husband and our dog. Thanks to the Freedom From Pain Institute…Proud to be a MMT!
Audrey Arbuckle
Fishers, Indian
abarbuckle@gmail.com
audrey@integrativemassagetherapyin.com