Audrey Arbuckle is considered by many to be the top massage therapist in Fishers. We're delighted that she decided to pursue certification as a Master Myoskeletal Therapist (MMT). Achieving this certification, one of the highest standards for a massage professional, is no small feat. It takes a burning desire to get results for your clients and a great deal of commitment. You can read a little bit about her journey below. She is highly skilled at treating a range of myoskeletal disorders, from back to carpal tunnel syndrome. To contact Audrey to make an appointment for massage therapy in Fishers, check the links at the bottom of this page.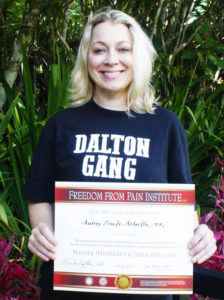 If you are familiar with the "Five Love Languages" then I would say that "touch" would be mine. My earliest memory of giving massages was as young as 6 years old. I remember massaging my mother's hands and feet as my way of showing my love for her. As I got a little older it progressed to me giving her back rubs when she would come home from work. She would describe my touch as healing and intuitive to where she was experiencing pain. My mother always told me to become a Massage Therapist. However, It wasn't until I dated a Massage Therapist that I saw firsthand the profound impact I could positively have on someone's life. So, in my mid 20's I decided to switch professions from Cosmetology and go into the field of Massage Therapy.
I have been a Massage Therapist for 16 years, 13 of those years have been in private practice. Through my search I have taken several continuing educational courses, all in the quest for the "One" modality in which I could pour myself into. Through my journey I've studied Cranial Sacralfascial therapy, the "Gillespie Approach" with Dr. Barry Gillespie and Orthopedic Massage the "Hendrickson Method" with Dr. Tom Hendrickson along with other modalities. I've spent some time working with special needs children volunteering as a camp counselor for Indiana's Riley's Hospital's "Champ Camp". There was a period in my career where there was a pause in my quest. However, there is a saying that goes "When the student is ready, the teacher appears", and so it is.
I discovered Erik's Myoskeletal Alignment Therapy in late 2019 while browsing through YouTube. One of his videos popped up on my recommendations list. I watched several of his videos and absolutely loved his approach, theory and way of seeing the human body. What intrigued me the most was his down to earth personality! Erik makes learning a fun experience. For a person like me, I needed that stimulation to keep my attention. I loved how simple he made learning his techniques and approach to the human body. Seeing firsthand the benefits that the modality was providing to my clients, I decided to pour myself into his Master Myoskeletal Program. Erik's work has been everything that I was searching for all these years.
In early 2022 I decided to make the commitment with the program and completed my training receiving my diploma as Master Myoskeletal Alignment Technique therapist while in Costa Rica in December, of 2022. Because of Erik's work, I have been inspired to grow even further as a therapist. He has sparked a fire inside of me to never stop learning and never stop growing, I owe it to my clients and to my industry. I've been blessed with a busy practice that continues to grow. If you're a therapist and are considering studying under Erik Dalton, I highly encourage you to do so. The Dalton community is a wonderful network of caring and talented therapists where you will find the support that you need. I am so blessed to have found my "pot of gold"! Thank you, Erik, for your dedication and life's work to our industry. I'm proud to be a part of The Dalton Gang!
Audrey Arbuckle
Fishers, Indiana