Jessica Chase Lockard is considered by many to be the top massage therapist in Abilene. We're delighted that she decided to pursue certification as a Master Myoskeletal Therapist (MMT). Achieving this certification, one of the highest standards for a massage professional, is not easy. It takes a burning desire to get results for your clients and a great deal of commitment. You can read a little bit about her journey below. This talented therapist can help you with all kinds of musculoskeletal disorders, including headaches, rotator cuff problems, sports injuries, and more. To book an appointment for massage therapy in Abilene, click the appropriate link at the bottom of this page.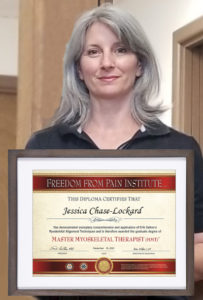 I started out in massage thinking it was going to be a temporary thing, a steppingstone in my career path. But, as I began work with clients, I discovered I had a real passion for helping others achieve pain free movement and better function. I stumbled upon Erik Dalton's work through his published articles in Massage Today and Massage Magazine and was immediately impressed. I found myself always looking forward to his next article and seemed to have great success when performing the techniques on my clients.
I attended my first in person workshop during Erik's 2010 "Blue Collar Tour" and was immediately hooked! The information presented completely changed my thinking about bodywork. It not only taught me better ways to treat complex pain conditions, but also how to better communicate and "hear" my client's issues. I began assessing more for movement restrictions and structural patterns instead of chasing the client's pain.
Becoming a Master Myoskeletal Therapist has probably been my greatest achievement as a massage therapist thus far. Erik has given me the WHY behind the HOW and WHAT to do to give me the best outcomes for my clients. Proud to be a MMT!!!
Jessica Chase Lockard
Abilene, Texas