Mira Schoppe has been working as a massage therapist in Eagle since 2012. Mira completed her Master Myoskeletal Therapist (MMT) certification in 2021. For massage therapy professionals, it's one of the most highly regarded certifications that a massage therapist can receive. It's a rigorous process, and few therapists get to use the designation. You can find out more about her below. We know you'll be in great hands when you book an appointment with Mira. To contact Mira to make an appointment for massage therapy in Eagle, check the links at the bottom of this page.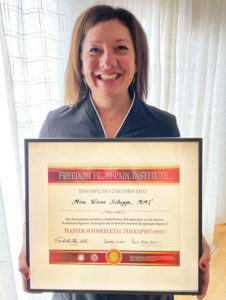 I was born in Downeast Maine on a small family farm. I was raised with a holistic approach to nutrition, health, and wellness. This built a strong foundation of healthy eating, exercising, and supporting a healthy mind and spirit.
I became a LMT in 2012 and opened my own business. I have worked with clients of all ages in my studio, at their houses, on the road with bikers, backstage with musicians, and in high-end spas. I am able to help others improve both their physical, mental, and spiritual wellbeing, offering customized bodywork and always an open ear; but I continue to thrive for more knowledge to enhance my skills as a bodyworker.
I first heard of Erik Dalton in 2016 from a colleague. I looked up his website and found it intriguing, so I immediately signed up for a weekend course with Paul Kelly in Denver. I absolutely loved it and bought the whole Myoskeletal bundle. I was busy with balancing my life and work; therefore only dabbling at Dalton's techniques over the next few years. I loved that I could easily incorporate these techniques into any session or use them as "shot-gun" techniques on the road. When I decided to shut my business down from March-May of 2020, I thought this was the perfect time to really start and complete the program. I am honored to say that I finally earned my MMT in December 2021.
Between clients, I can be found soaking up Colorado's surroundings, either trail running, hiking, mountain biking, snowboarding, or on the river. If I am not out enjoying my backyard, I am probably experiencing a new culture while on an international adventure!
Mira Schoppe
Eagle, Colorado