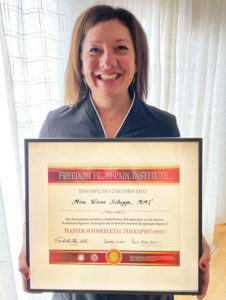 I was born in Downeast Maine on a small family farm. I was raised with a holistic approach to nutrition, health, and wellness. This built a strong foundation of healthy eating, exercising, and supporting a healthy mind and spirit.
I became a LMT in 2012 and opened my own business. I have worked with clients of all ages in my studio, at their houses, on the road with bikers, backstage with musicians, and in high-end spas. I am able to help others improve both their physical, mental, and spiritual wellbeing, offering customized bodywork and always an open ear; but I continue to thrive for more knowledge to enhance my skills as a bodyworker.
I first heard of Erik Dalton in 2016 from a colleague. I looked up his website and found it intriguing, so I immediately signed up for a weekend course with Paul Kelly in Denver. I absolutely loved it and bought the whole Myoskeletal bundle. I was busy with balancing my life and work; therefore only dabbling at Dalton's techniques over the next few years. I loved that I could easily incorporate these techniques into any session or use them as "shot-gun" techniques on the road. When I decided to shut my business down from March-May of 2020, I thought this was the perfect time to really start and complete the program. I am honored to say that I finally earned my MMT in December 2021.
Between clients, I can be found soaking up Colorado's surroundings, either trail running, hiking, mountain biking, snowboarding, or on the river. If I am not out enjoying my backyard, I am probably experiencing a new culture while on an international adventure!
Mira Schoppe
Eagle, Colorado