Karie Harward has been working as a massage therapist in Las Vegas since 2018. We're delighted that she decided to pursue certification as a Master Myoskeletal Therapist (MMT). Achieving this certification, one of the highest standards for a massage professional, is no small feat. It takes a burning desire to get results for your clients and a great deal of commitment. Below is her story in her own words. She is highly skilled at treating a range of myoskeletal disorders, from back to carpal tunnel syndrome. If you're looking for massage therapy in Las Vegas, give Karie a call.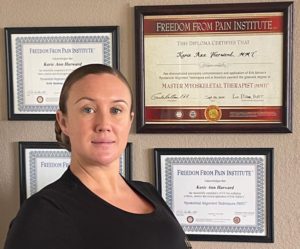 After spending over a decade in the medical field in pre-nursing, exercise science, personal training (NSCA) and medical coding (orthopedic and anesthesiology), I had come to terms that prevention may be the missing link. I remember coming home distraught after reading failed surgeries and seeing continuous medications to ease pain and thinking there had to be a better way!
In 2018 I completed massage therapy training at the Nevada School of Massage Therapy (Cortiva) and have had the joy of many great career changing opportunities since. During my structural integration class, I learned about Ida Rolf and Erik Dalton and couldn't believe what I had been missing out on for so long!
Upon completion I immediately purchased my MAT foundational bundle. When COVID hit in 2019 I dove straight in! This gave me the opportunity to continue doing what I loved in a time of the unknown. Shortly thereafter I booked the OKC workshop (this was my life changing moment). I learned many valuable tools in a short period of time, so I purchased the master MMT bundle and enrolled in two more workshops.
Through my journey I have been able to change lives and use my MAT skill-set no matter where I go. From private practice to high end spa work, the magic happens! The knowledge that comes with being a part of the Dalton gang is irreplaceable, we work smarter not harder. The Master Myoskeletal Therapist program has proven there is a better way, and I am humbled by this accomplishment. An extra extension of gratitude to Tammy McCue and Clinton Merrifield for being a part of the success that will last a lifetime!
Karie Harward
Las Vegas, Nevada