Marisel Clark is considered by many to be the top massage therapist in Norwalk. We're delighted that she decided to pursue certification as a Master Myoskeletal Therapist (MMT). Achieving this certification, one of the highest standards for a massage professional, is no small feat. It takes a burning desire to get results for your clients and a great deal of commitment. You can read a little bit about her journey below. She is highly skilled at treating a range of myoskeletal disorders, from back to carpal tunnel syndrome. To contact Marisel to make an appointment for massage therapy in Norwalk, check the links at the bottom of this page.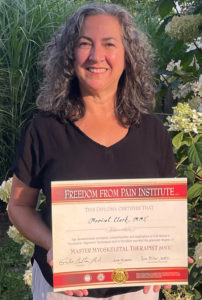 In 2018 I attended my first MAT workshop with Erik Dalton in Costa Rica. I learned new techniques and concepts as well as gained new insights about the techniques I was already familiar with. I couldn't wait to get home and put into practice what I had learned. I was instantly hooked!
Slowly, as I integrated MAT into my practice I became more confident and developed a deeper understanding of the techniques. I also noticed the outcome of my sessions with clients beginning to change. Every time I worked with my clients I gained more insight and learned something new. I became better at assessing and treating complex pain conditions and the effects of my sessions went beyond relaxation. My clients reported less pain (or no pain), better movement, and improved performance. It is not unusual for me to hear clients say things like, "You did something last time that really helped my x," or " Your massage is so different, what do you call that?", " Your touch is gentle, but you really get in there," "I want my (husband, wife, sister, etc.) to come see you." It's extremely gratifying for me to hear their feedback and to know that I have the skills that have helped in their progress.
In 2022, I completed my Master Myoskeletal Therapist (MMT) Certification and received my MMT certificate from Erik Dalton in Ireland alongside my dear friend Michelle Quigley who has been on this MAT journey with me from the very beginning. The camaraderie of the Dalton gang is another reason I love attending MAT workshops.
My MAT journey continues as I step into the role of MAT teaching assistant for the Freedom From Pain Institute. I'm honored to be a TA and have the opportunity to help other therapists learn MAT too. Every time I attend a workshop as a TA I come away having learned something new and valuable to take back to my practice.
Marisel Clark
Norwalk, CT