Alton "Rusty" Nail has been working as a massage therapist in Albuquerque since 1996. In 2014, Rusty got their Master Myoskeletal Therapist (MMT) certification. It's a big step up from being a standard licensed massage therapist and requires a great deal of drive to achieve. We're pleased that he made that commitment and impressed with the results he gets with clients. You can find out more about him below. He can help you resolve pain problems that many other allied health professions struggle with, including back pain, injuries, and headaches. If you're looking for massage therapy in Albuquerque, give Rusty a call.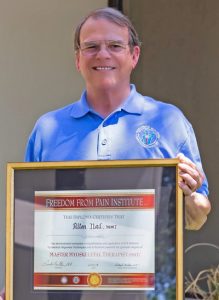 Similar to many manual therapists I was directed to pain relief through personal injury. Mine was an oilfield accident in 1979 that resulted in two surgeries to my R wrist, 30 months in a cast and 7 years with a brace. That was a career changing event. I obtained an Associate Degree in Respiratory Therapy in 1993. I had been interested in massage since 1970 and using it in the ER demonstrated the viability of massage. The hospital paid for my massage school and in 1996 I obtained my LMT. After several years of working in the hospital and giving relaxation massage during my off hours, I started looking for a modality that would help my clients deal with the pain they endured. I finally found that modality in Erik Dalton's Myoskeletal Alignment Therapy.
Having had over a decade of Respiratory Therapy and Massage Therapy by that time thought I had a good understanding of Anatomy and medical terminology. In 2008 I purchased MAT Neck/Back Manual Vol I & II and the original Shoulder, Arm& Hand home study course. I started reading the notebook and it wasn't long before I realized I was spending more time in reference books than reading the text. My massage business was slowing down so I took that opportunity to close my business and return to the Hospital ER full time and practice massage part time for the next 6 years. I am indebted to the MDs, DOs, RNs and LVNs that generously shared their expertise in assessment, anatomy, reading x-rays and dealing with pain as freely as Erik shares his knowledge.
In 2014 I finally turned in my test for the home study course (fortunately there was no deadline for completing the course). Erik's MAT has completely changed my approach to bodywork and my outlook on life in general. I will forever be in debt to Erik.
Proud to have completed the MMT program after only a decade. I completely agree with an astute philosopher that once said he would be a full-time student if he could. This is another step in the constantly changing field of Manual Therapy. I am thankful that Erik is so willing to adapt with the changing advancements and incorporate them into his program. Kudos to Erik, Teri, Paul, Kim and all "The Dalton Gang"!
Thank you
Alton "Rusty" Nail
Albuquerque, New Mexico
210-240-2089