Gina Stavredes has been working as a massage therapist in Naples since 1998. We're delighted that she decided to pursue certification as a Master Myoskeletal Therapist (MMT). Achieving this certification, one of the highest standards for a massage professional, is not easy. It takes a burning desire to get results for your clients and a great deal of commitment. You can find out more about her below. She can help you resolve pain problems that many other allied health professions struggle with, including back pain, injuries, and headaches. If you're looking for massage therapy in Naples, give Gina a call.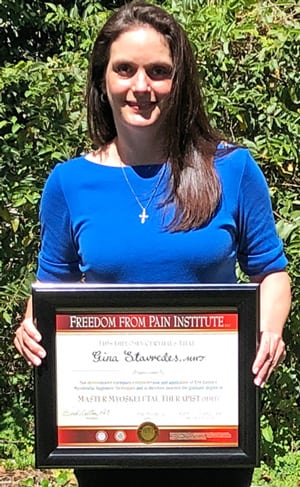 When I became a Licensed Massage Therapist in 1998, I dedicated myself to giving the best possible care to my clients. Through the teachings and guidance of Erik Dalton and the 'Dalton Team' it has changed my entire practic.
Myoskeletal manual therapy and corrective exercise have taught me how to better assess and treat common imbalance patterns, chronic pain and overuse injuries…creating positive results and happy clients one day at a time.
I'm grateful to be a Master Myoskeletal Therapist and part of this astute group of bodyworkers
Gina Stavredes
Naples, Florida
239-777-2652