Eric Schmelzer is considered by many to be the top massage therapist in Columbus. We're delighted that he decided to pursue certification as a Master Myoskeletal Therapist (MMT). Achieving this certification, one of the highest standards for a massage professional, is not easy. It takes a burning desire to get results for your clients and a great deal of commitment. You can read a little bit about his journey below. We know you'll be in great hands when you book an appointment with Eric. For massage therapy in Columbus, contact Eric. The links are below.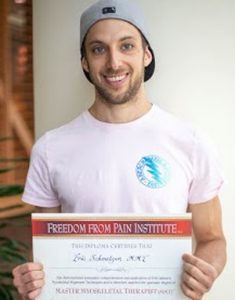 In 2010, I graduated the University of Findlay with a B.S. in Exercise Science and immediately began my professional career as a personal trainer. After 4 years, my practice became fairly successful, but it seemed my biggest problem was my strong "know-it-all personality." In 2014, I attended my first MAT workshop with Paul Kelly in Nashville (after only 6 months as a bodyworker). Throughout that weekend, Paul very methodically and kindly showed me that I really didn't know as much as I thought I did. Although I did leave the workshop with some cool techniques, I honestly had no idea what MAT was about or how to effectively implement what I had learned.
A couple months later, I did a mentorship with Paul at his Knoxville clinic and that weekend really sealed it for me. There was something about the techniques and watching as Paul integrated the work that made me want to know more. So, as soon as I returned home, I started on Erik's home study courses. Each subsequent course took me further down the rabbit hole of inspiration… and also frustration. Finally, I made the decision to slow down and make sure I didn't just complete the courses…. I wanted to KNOW the material.
Long story short, it's taken me a little less than 5 years to complete all nine courses and the 50 hours of live training. During that time my practice has grown leaps and bounds and I'm now confident I can help almost anyone, but more importantly I now know when I should refer out.
My clients think I'm an expert, my credentials say I'm a 'Master,' yet my brain tells me "Eric, you still don't know squat." I believe mastery is a process and not a destination. This is why I've adopted the philosophy of being a lifelong student, and my teachers will continue to be Erik, Paul, Dave, and the rest of the Dalton gang.
Eric Schmelzer
Columbus, Ohio
614-205-0444