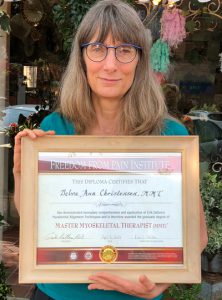 While studying to become a Licensed Massage Therapist I was struck with how often we worked and addressed the human body as if it was constituted of distinctly separate parts instead of being an interdependent and highly integrated whole. Over the years I studied many wonderful modalities but still had not found what I was searching for in order to move beyond temporary solutions to create lasting positive change for my clients. I had all but given up on my search for an advanced program that treated the body as an integrated whole when I discovered a video by Dr. Erik Dalton and started my journey to becoming a Master Myoskeletal Therapist (MAT).
MAT combines some of the best techniques from osteopathy, ART, fascial therapy, developmental movement sciences, and postural/developmental therapies. Additionally, Dr. Dalton is always updating and advancing MAT techniques to reflect the newest research advances in the physiology, pain management and manual therapy sciences.
Combined with this research is the excellent teaching by both Dr. Dalton and Paul Kelly. Through their insights and patience in the seminars and instruction sessions as well as from the MAT home study courses, I have grown immeasurably as a massage therapist and succeeded in assisting my clients in reaching their goals. I have had the pleasure to learn and expand my skills as a Master Myoskeletal therapist and I am confident that it will help me and other therapists to continue to advance our practice.
I'm grateful to everyone at the Freedom from Pain Institute and the whole Dalton Gang and look forward to continuing to learn and grow.
Debra Christensen
Evanston, Illinois
debra@runningonmt.us
773-965-0345