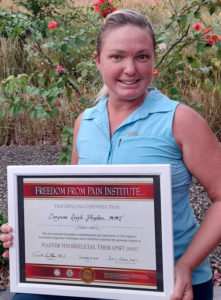 My Mum put herself through massage school in the early 90's when I was a teen. I vehemently resisted being her 'guinea pig' but my resistance was futile against the forces that drive one's soul.
From 1999 through 2001 I attended the same college as my Mum- Nature Care College in Sydney, Australia, completing the Diploma of Remedial Massage by the end of 1999. My primary focus at the time was to become a Naturopath, so I completed an Advanced Diploma of Naturopathy and Bachelor of Health Science (Complementary Medicine) through the University of New England. However, the Diploma of Remedial Massage was woven nicely into the Naturopathic training and little did I know that bodywork would become my lifelong passion!
I left Sydney, Australia in 2002 to travel and experience the world, eventually landing in Costa Rica in 2003 and haven't looked back. I split my time between the north of Costa Rica in Playa Grande, and the south, near Pavone where I'm often found chasing waves and roaming the jungle. I love learning new things and sharpening old skills, so when a fellow massage therapist told me about the Erik Dalton training offered here in Costa Rica, I knew I had to experience it.
At my first "Pain Relief in Paradise" training, I was blown away at Erik's approach, skills and knowledge. I signed up to complete the Master Myoskeletal Therapist certification and could not be happier. My clients comment on how much it has changed my practice and how much it helps them. Nothing is better than knowing you have a positive impact on the quality of life of your clients and I credit this in great part, to the MMT training.
Corynne Hughes
Guanacaste, Costa Rica