Steve Thurston has been working as a massage therapist in Ontario since 2001. We're delighted that he decided to pursue certification as a Master Myoskeletal Therapist (MMT). Achieving this certification, one of the highest standards for a massage professional, is not easy. It takes a burning desire to get results for your clients and a great deal of commitment. Below is his story in his own words. This talented therapist can help you with all kinds of musculoskeletal conditions, including headaches, rotator cuff problems, sports injuries, and more. To book an appointment for massage therapy in Ontario, click the appropriate link at the bottom of this page.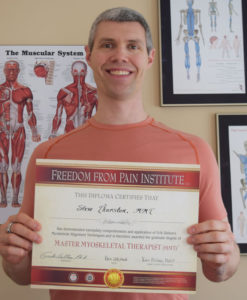 In 2001 I became a Registered Massage Therapist and began treating people by helping them discover their ability to move more effortlessly and freely. In 2010 I became a personal trainer, learning more about stability and dynamic movement.
While researching spinal health and mechanics I came across a couple of Erik's articles about treating the deep 4th layer muscles of the spine and the biomechanics of the human spinal engine. I was instantly hooked and ordered his online Master Myoskeletal Therapist certification home study courses. In 2017 I had the pleasure of meeting and working with Erik at his 'Pain Management in Paradise' retreat in Costa Rica. Learning from Erik and his team was an inspiration that helped me to mold my treatment approach to what it is today. 
Steve Thurston
Stoney Creek, Ontario
https://movetohealtherapy.ca
905-730-2936