If you're looking for massage therapy in Kansas City, Missouri, Gavin Crump is the massage therapist to see. We're delighted that he decided to pursue certification as a Master Myoskeletal Therapist (MMT). Achieving this certification, one of the highest standards for a massage professional, is no small feat. It takes a burning desire to get results for your clients and a great deal of commitment. You can read a little bit about his journey below. We know you'll be in great hands when you book an appointment with Gavin. For massage therapy in Kansas City, Missouri contact Gavin. The links are below…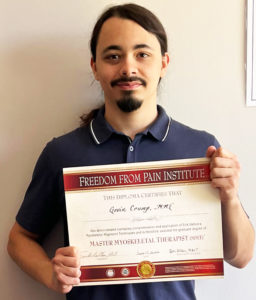 My journey as an LMT began when I was very young. When I was 4-5 years old, my grandma was diagnosed with diabetes and she struggled with the onset of neuropathy in her feet. To help ease her neuropathy I would rub and work on her feet. Over time I developed a sense of the power of touch and what it meant to help and heal with my hands.
Throughout high school and college, I excelled in biology and anatomy courses.  Those subjects greatly piqued my interest. After finishing my college studies, I realized that massage therapy was the perfect path for me. It combined the two areas I loved to learn about most, science and hands-on bodywork. As I progressed through massage school I discovered manual therapy combined with other complementary therapies was a good path to follow to develop skills for my massage practice. Then I soon discovered Erik Dalton's Myoskeletal Alignment Techniques and after taking the first course, I thought, "these techniques make sense". I knew I needed to learn more and continued to complete all of the MAT courses and hands-on training required for the Master Myoskeletal Certification program. In June 2022 I received my MMT certificate at the OKC workshop with Erik Dalton!
I believe a massage practice isn't solely about addressing the muscles, or joints, but rather seeing the body as an integration of parts capable of supporting a dynamic system. Learning techniques derived from osteopaths and Rolfers have enhanced my skills and understanding of how to work effectively with the body. The best part is my clients have never been happier with the effects of pain-free movement and reaching new goals with every session! Now I have a private practice in Kansas City, MO where I focus heavily on orthopedic assessments, movement, and Myoskeletal Alignment Techniques.
Gavin Crump
Kansas City, Missouri