Caroline Warfield is considered by many to be the top massage therapist in Ellicott City. We're delighted that she decided to pursue certification as a Master Myoskeletal Therapist (MMT). Achieving this certification, one of the highest standards for a massage professional, is not easy. It takes a burning desire to get results for your clients and a great deal of commitment. You can read a little bit about her journey below. She is highly skilled at treating a range of myoskeletal issues, from back to carpal tunnel syndrome. To contact Caroline to make an appointment for massage therapy in Ellicott City, check the links at the bottom of this page.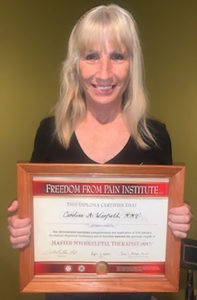 As a Licensed Massage Therapist for 30 years, I offer a unique blend of traditional medical training like Neuromuscular Therapy along with a variety of complementary healing modalities to restore health.
When I incorporated Myoskeletal Alignment Techniques into my treatment protocol my practice was transformed and the effect on my clients simply profound.
My work is designed to restore balance, function, and re-educate the body to a healthier alignment. Thanks to the Freedom From Pain Institute staff and fellow MMTs for all your support. I am grateful to be a Master Myoskeletal Therapist.
Caroline Warfield
Ellicott City, Maryland