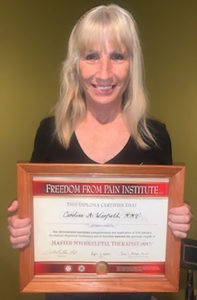 As a Licensed Massage Therapist for 30 years, I offer a unique blend of traditional medical training like Neuromuscular Therapy along with a variety of complementary healing modalities to restore health.
When I incorporated Myoskeletal Alignment Techniques into my treatment protocol my practice was transformed and the effect on my clients simply profound.
My work is designed to restore balance, function, and re-educate the body to a healthier alignment. Thanks to the Freedom From Pain Institute staff and fellow MMTs for all your support. I am grateful to be a Master Myoskeletal Therapist.
Caroline Warfield
Ellicott City, Maryland