Ava Lopez Carter is considered by many to be the top massage therapist in Trinidad. We're delighted that she decided to pursue certification as a Master Myoskeletal Therapist (MMT). Achieving this certification, one of the highest standards for a massage professional, is not easy. It takes a burning desire to get results for your clients and a great deal of commitment. You can read a little bit about her journey below. We know you'll be in great hands when you book an appointment with Ava. For massage therapy in Bethesda, contact Ava. The links are below.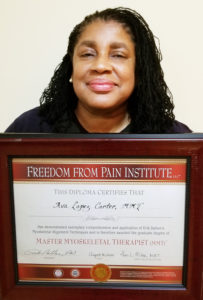 After completing massage school in Trinidad, I found I was interested in offering more thoughtful therapeutic and rehabilitative care to my clients.
While pursuing several other courses and modalities, someone directed me to Erik Dalton's website. I began looking through his videos and found them to be very thorough and well constructed. I've really enjoyed using the MAT approach as my goal is always the overall wellbeing of each individual client.
The Master Myoskeletal Therapy training has taught me the importance of observation and listening rather than administering a blanket therapy and my clients seem entirely satisfied with the results. I believe I have formed true and deep friendships with these individuals. Now I'm proud to be the first MMT in the english speaking Caribbean. Looking forward to the future.
Ava Lopez Carter
Trinidad