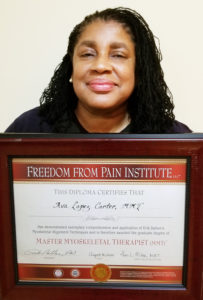 After completing massage school in Trinidad, I found I was interested in offering more thoughtful therapeutic and rehabilitative care to my clients.
While pursuing several other courses and modalities, someone directed me to Erik Dalton's website. I began looking through his videos and found them to be very thorough and well constructed. I've really enjoyed using the MAT approach as my goal is always the overall wellbeing of each individual client.
The Master Myoskeletal Therapy training has taught me the importance of observation and listening rather than administering a blanket therapy and my clients seem entirely satisfied with the results. I believe I have formed true and deep friendships with these individuals. Now I'm proud to be the first MMT in the english speaking Caribbean. Looking forward to the future.
Ava Lopez Carter
Bethesda, Maryland/Trinidad