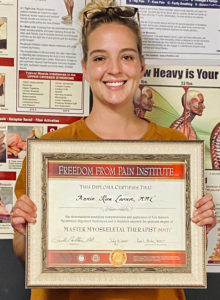 I started massage school in 2010 and by day three knew I wanted to study Myoskeletal Therapy. My instructors told me about Erik Dalton, guided me in that direction, and I am forever grateful to them. 
After graduating in June 2011, I immediately purchased all the courses available at that time and by 2014 I was teaching at The Salon Professional Academy and serving on the North Dakota State Board of Massage Therapy.
Soon I began studying for my Master Myoskeletal Therapist certification and in 2016, I attended my first workshop in Oklahoma City…what a blast!!! This last year it was tough to focus on goals, but I desperately wanted to complete Erik's 210-hour certification and become the first MMT in North Dakota. Now I'm proud to say that I've finished the program this summer.
My clients are very supportive of my passion for continuing education and Myoskeletal Alignment Therapy has helped many of them immensely. My hope is that more therapists follow in this direction. It's been a game changer for both me and my clients and I will continue on this journey of helping people with their pain and sports performance issues. Proud to me a MMT.
Annie Larsen
Fargo, North Dakota