Laura Boozer is considered by many to be the top massage therapist in Elizabethtown. We're delighted that she decided to pursue certification as a Master Myoskeletal Therapist (MMT). Achieving this certification, one of the highest standards for a massage professional, is not easy. It takes a burning desire to get results for your clients and a great deal of commitment. You can read a little bit about her journey below. We know you'll be in great hands when you book an appointment with Laura. For massage therapy in Elizabethtown, contact Laura. The links are below.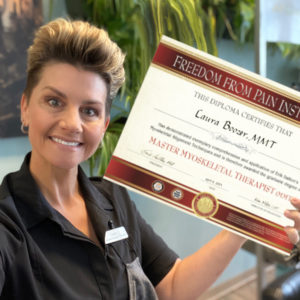 I've been involved in sports all my life and have always been obsessed with anatomy, physiology, and biomechanics. In college I played soccer, taught group fitness classes, and raced triathlons until I became injured…and that's when I discovered bodywork!
Two weeks after my first massage back in early 2000's, I quit my corporate America job and enrolled in school at Louisville's "Advanced Massage Therapeutics" where I was blessed to be introduced to great bodywork pioneers such as Erik Dalton, Tom Meyers, Aaron Mattes, and James Waslaski.
I attended my first MAT class a few years following graduation and that event changed my whole perspective on therapeutic bodywork and rehabilitation. It opened an entirely new vision of what massage therapy could be. I left that workshop with a newfound confidence in assessing and treating complex pain conditions, but I wanted to learn more so I purchased Erik's entire Foundational Bundle.
This Master Myoskeletal Therapist program has led to several years of continued study in my spare time and I still refer to the manuals and textbooks when I feel a need for a refresher. Whether I'm treating athletes in a locker room or guests in my spa, Erik's work gives me the tools I need to give them the results they expect!
Thank you, Erik, & "the gang" for your continued efforts to give therapist new evidence-informed tools to help elevate our practices! BTW…the New E-learning courses are AWESOME! Having access to review videos anytime and anywhere is priceless…THANK YOU! Proud to be a MMT.
Laura Boozer
Elizabethtown, Kentucky