Adelina Canolli has been working as a massage therapist in Euless since 2018. We're delighted that she decided to pursue certification as a Master Myoskeletal Therapist (MMT). Achieving this certification, one of the highest standards for a massage professional, is no small feat. It takes a burning desire to get results for your clients and a great deal of commitment. Below is her story in her own words. We're confident that you'll see great results with Adelina whatever pain problem you may have. To book an appointment for massage therapy in Euless, click the appropriate link at the bottom of this page.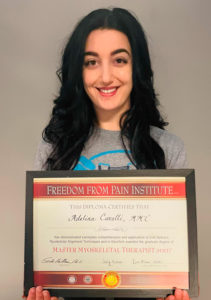 I started my career in the health and wellness field as a personal trainer extraordinaire. I've always loved helping people achieve their goals, but in many ways, I was unsure of how to help with their pain and injury conditions.
In 2018, I started working with a 'hands-on' mentor to improve my corrective exercise practice & learn more about manual therapy. I began integrating what I learned into my personal training practice as sort of a hybrid therapy/exercise service for my clients. It was during this time I realized that I had a special gift for helping people feel better using my hands.
Fast forward to 2020, I accidentally discovered Erik's "Master Myoskeletal Therapist" program and was immediately intrigued. I enrolled that day and began obsessively working through the courses. I practiced religiously with clients throughout the week and on weekends with my husband. They were all pumped to get the work!
After completing all the training and practicing my new skills daily, my confidence began to build, and I knew it was time to attend a seminar to further reinforce the work.
The further I progressed into the masters program, the more excited and passionate I became. The 50-hours of weekend seminars were just what I needed to expand my repertoire.
The MMT program has been an overall great experience, and I would recommend it to anyone looking to refine his or her manual therapy skills.
My clients love my Myoskeletal Therapy practice! A big thanks to Erik Dalton & "the gang." I'm proud to be a MMT!
Adelina Canolli
Euless, Texas