Rebecca Olcott has been working as a massage therapist in Tulsa since 2014. In 2016, Rebecca got their Master Myoskeletal Therapist (MMT) certification. It's a big step up from being a standard licensed massage therapist and requires a great deal of drive to achieve. We're pleased that she made that commitment and impressed with the results she gets with clients. You can find out more about her below. She can help you resolve pain problems that many other allied health professions struggle with, including back pain, injuries, and headaches. If you're looking for massage therapy in Tulsa, give Rebecca a call.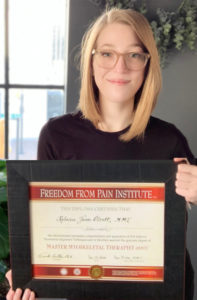 I received my massage education in 2013 from Community Care College in Tulsa, Oklahoma. In August of 2014, I became a Licensed Massage Therapist. However, after school, I felt that there was still much more to learn in order to be an effective bodyworker. At that time, my mentor introduced me to Erik Dalton's Foundational home study and after reading through, I felt compelled to learn everything I could. Once I started practicing the work, everything started coming together. My clients were amazed at the results they were receiving from integrating the MAT approach to my "spa routine." The regime was much easier on my body as well, as my body mechanics improved, and I started to learn how simple massage could be. 
I attended my first Myoskeletal Workshop in 2016, which was incredibly inspiring and educational. All the things I studied had come to life, and I was immersed in hands-on learning and implementing the techniques. This is when I truly started helping people. Over the years, I have continued to build my skill set with the Advanced Myoskeletal Techniques to help my clients. This work has given me the confidence and ability to recognize common strain patterns and work with clients to restore order and bring balance to the body. I now have the tools to assess pain and help facilitate change. I've finally made it as a Master Myoskeletal Therapist! It feels great saying this, as it has been a goal for eight years in the making! I am so proud to accomplish this milestone in my career. However, here I am with that same yearning to learn more. This just goes to prove Erik has taught me well, "the truly educated never graduate." A big thank you to Erik and the Dalton Gang!
Rebecca Olcott
Tulsa, Oklahoma