Lisa Clines is considered by many to be the top massage therapist in Carrollton. We're delighted that she decided to pursue certification as a Master Myoskeletal Therapist (MMT). Achieving this certification, one of the highest standards for a massage professional, is not easy. It takes a burning desire to get results for your clients and a great deal of commitment. You can read a little bit about her journey below. We know you'll be in great hands when you book an appointment with Lisa. To contact Lisa to make an appointment for massage therapy in Carrollton, check the links at the bottom of this page.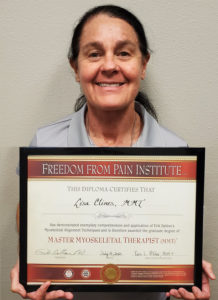 My passion has always been centered around helping others heal from their aches and pains so they can continue with life without the stress caused by chronic pain.
I started my journey into health and wellness in the personal training and corrective exercise fields, as I am also very passionate about my personal path of freedom from pain as I participate in sports and with my family and children. I soon learned however that no matter how I focused on training with proper form, that limits caused by pain (and sometimes injury) stopped me from reaching my health and fitness goals. So, massage school became my next goal and it was there that I found my real passion.
Near the end of my initial massage training, I asked my anatomy and physiology instructor who he would recommend if I wanted to further my understanding and ability to help others be free of pain. Relaxation is a very valuable aspect of massage offering great benefit, but I knew my focus was with the population wanting to correct the cause of their chronic pain. Erik Dalton's name was one that I was given and the one I pursued within a year of graduation.
The techniques and understanding I was taught through his Master Myoskeletal Therapist program has provided results for my clients that surprised them and excited me. The Myoskeletal Techniques I've learned, and continue to review on a regular basis, have truly helped others move forward in their personal pursuits in positive ways. Proud to be a MMT!
Lisa Clines
Carrollton, Texas